Computational Model Library
This program simulates a group of hunter-gatherer (households) moving randomly over an artificial landscapoe pulated with resources randomly distributed (a Gaussian distribution). To survive, agents hunt and gather using their own labor resources and available technology. When labor and technology is not enough to compensate the resource difficulty of access, they need to cooperate. The purpose of the model is to analyze the consequences of cooperation on cultural diversity: the more the agents cooperate, the more their culture (a 10 componenet vector) is updated to imitate the culture of cooperative agents. The less the agent cooperates, the more different its culture becomes.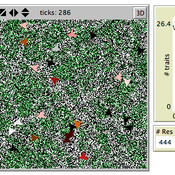 This spatially explicit agent-based model addresses how effective foraging radius (r_e) affects the effective size–and thus the equilibrium cultural diversity–of a structured population composed of central-place foraging groups.
This website uses cookies and Google Analytics to help us track user engagement and improve our site. If you'd like to know more information about what data we collect and why, please see
our data privacy policy
. If you continue to use this site, you consent to our use of cookies.