Computational Model Library
About the CoMSES Model Library more info
---
Our mission is to help computational modelers at all levels engage in the establishment and adoption of community standards and good practices for developing and sharing computational models. Model authors can freely publish their model source code in the Computational Model Library alongside narrative documentation, open science metadata, and other emerging open science norms that facilitate software citation, reproducibility, interoperability, and reuse. Model authors can also request peer review of their computational models to receive a DOI.
All users of models published in the library must cite model authors when they use and benefit from their code.
Please check out our model publishing tutorial and contact us if you have any questions or concerns about publishing your model(s) in the Computational Model Library.
We also maintain a curated database of over 7500 publications of agent-based and individual based models with additional detailed metadata on availability of code and bibliometric information on the landscape of ABM/IBM publications that we welcome you to explore.
Displaying 2 of 2 results test-bed clear
We develop an agent-based model (U-TRANS) to simulate the transition of an abstract city under an industrial revolution. By coupling the labour and housing markets, we propose a holistic framework that incorporates the key interacting factors and micro processes during the transition. Using U-TRANS, we look at five urban transition scenarios: collapse, weak recovery, transition, enhanced training and global recruit, and find the model is able to generate patterns observed in the real world. For example, We find that poor neighbourhoods benefit the most from growth in the new industry, whereas the rich neighbourhoods do better than the rest when the growth is slow or the situation deteriorates. We also find a (subtle) trade-off between growth and equality. The strategy to recruit a large number of skilled workers globally will lead to higher growth in GDP, population and human capital, but it will also entail higher inequality and market volatility, and potentially create a divide between the local and international workers. The holistic framework developed in this paper will help us better understand urban transition and detect early signals in the process. It can also be used as a test-bed for policy and growth strategies to help a city during a major economic and technological revolution.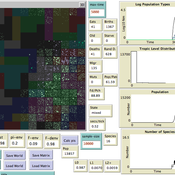 Bruce Edmonds
| Published Sunday, May 04, 2014 | Last modified Wednesday, May 15, 2019
This is a multi-patch meta-population ecological model. It intended as a test-bed in which to test the impact of humans with different kinds of social structure.
This website uses cookies and Google Analytics to help us track user engagement and improve our site. If you'd like to know more information about what data we collect and why, please see
our data privacy policy
. If you continue to use this site, you consent to our use of cookies.