Computational Model Library
The model presented here was created as part of my dissertation. It aims to study the impacts of topography and climate change on prehistoric networks, with a focus on the Magdalenian, which is dated to between 20 and 14,000 years ago.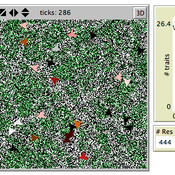 This spatially explicit agent-based model addresses how effective foraging radius (r_e) affects the effective size–and thus the equilibrium cultural diversity–of a structured population composed of central-place foraging groups.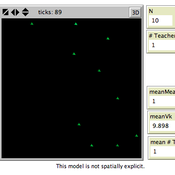 This model illustrates how the effective population size and the rate of change in mean skill level of a cultural trait are affected by the presence of natural selection and/or the cultural transmission mechanism by which it is passed.
This agent-based model examines the impact of seasonal aggregation, dispersion, and learning opportunities on the richness and evenness of artifact styles under random social learning (unbiased transmission).
This is the replication of the experiment performed by Eerkens and Lipo (2005) to look at the effect of copying errors when specific traits are transferred from an individual to another.
Andrew White
| Published Mon Oct 8 19:36:07 2012 | Last modified Sat Apr 27 20:18:48 2013
The TechNet_04 is an abstract model that embeds a simple cultural tranmission process in an environment where interaction is structured by spatially-situated networks.
This website uses cookies and Google Analytics to help us track user engagement and improve our site. If you'd like to know more information about what data we collect and why, please see
our data privacy policy
. If you continue to use this site, you consent to our use of cookies.