Computational Model Library
About the CoMSES Model Library more info
---
CoMSES Net maintains cyberinfrastructure to foster FAIR data principles for access to and (re)use of computational models. Model authors can publish their model code in the Computational Model Library with documentation, metadata, and data dependencies and support these FAIR data principles as well as best practices for software citation. Model authors can also request that their model code be peer reviewed to receive a DOI. All users of models published in the library must cite model authors when they use and benefit from their code.
Please check out our model archive tutorial or contact us if you have any questions or concerns about archiving your model.
CoMSES Net also maintains a curated database of over 7500 publications of agent-based and individual based models with additional metadata on availability of code and bibliometric information on the landscape of ABM/IBM publications that we welcome you to explore.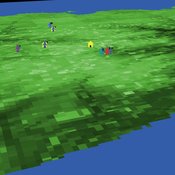 Zooarchaeological evidences indicate that rabbit hunting became prevalent during the Upper Palaeolithic in the Iberian Peninsula.
The purpose of the ABM is to test if warren hunting using nets as a collective strategy can explain the introduction of rabbits in the human diet in the Iberian Peninsula during this period. It is analyzed whether this hunting strategy has an impact on human diet breadth by affecting the relative abundance of other main taxa in the dietary spectrum.
Model validity is measured by comparing simulated diet breadth to the observed diet breadth in the zooarchaeological record.
The agent-based model is explicitly grounded on the Diet Breadth Model (DBM), from the Optimal Foraging Theory (OFT).
…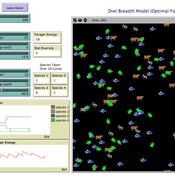 C Michael Barton
| Published Wed Nov 26 23:19:21 2008 | Last modified Thu Mar 12 20:04:31 2015
Diet breadth is a classic optimal foraging theory (OFT) model from human behavioral ecology (HBE). Different resources, ranked according to their food value and processing costs, are distributed in th
This website uses cookies and Google Analytics to help us track user engagement and improve our site. If you'd like to know more information about what data we collect and why, please see
our data privacy policy
. If you continue to use this site, you consent to our use of cookies.