Computational Model Library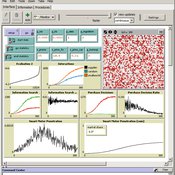 Martin Rixin
| Published Thu Aug 18 10:29:34 2011 | Last modified Sat Apr 27 20:18:17 2013
An Agent-based model simulates consumer demand for Smart Metering tariffs. It utilizes the Bass Diffusion Model and Rogers´s adopter categories. Integration of empirical census microdata enables a validated socio-economic background for each consumer.
Philip Truscott
| Published Mon Aug 15 06:10:15 2011 | Last modified Sat Apr 27 20:18:25 2013
Must tax-benefit policy making be limited to the 'experts'?
Marco Janssen
| Published Sun Aug 14 15:38:44 2011 | Last modified Sun Mar 17 01:53:00 2019
Agents are linked in a social-network and make decisions on which of 2 types of behavior to adopt. We explore consequences of different information feedback and providing targeted feedback to individuals.
Di Wang
| Published Wed Jul 13 00:22:40 2011 | Last modified Sat Apr 27 20:18:25 2013
Bayesian network is used to modelling the behavior of an individual level and multi-agent system is used to simulate the meme diffusion through the whole network.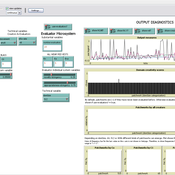 CREativity from a SYstems perspective, Model II.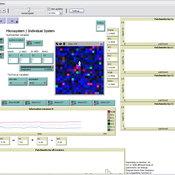 CRESY-I stands for CREativity from a SYstems perspetive, Model I. This is the base model in a series designed to describe a systems approach to creativity in terms of variation, selection and retention (VSR) subprocesses.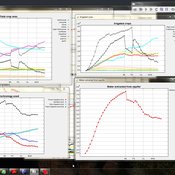 Georg Holtz
| Published Thu Jun 30 14:25:25 2011 | Last modified Sat Apr 27 20:18:17 2013
An agent-based model to investigate the history of irrigated agriculture in the Upper Guadiana Basin, Spain, in order to learn about the influence of farmers' characteristics (inter alia profit orientation, risk aversion, skills, available labour force and farm size) on land-use change and associated groundwater over-use in this region.
James Nolan
| Published Wed Jun 22 03:04:02 2011 | Last modified Sat Apr 27 20:18:19 2013
This model explores the effects of agent interaction, information feedback, and adaptive learning in repeated auctions for farmland. It gathers information for three types of sealed-bid auctions, and one English auction and compares the auctions on the basis of several measures, including efficiency, price information revelation, and ability to handle repeated bidding and agent learning.
Tao Zhang
| Published Thu May 19 16:47:17 2011 | Last modified Sat Apr 27 20:18:40 2013
This is the electronic companion to the paper "Modelling Electricity Consumption in Office Buildings: An Agent Based Approach"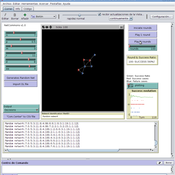 Francis Tseng
| Published Wed May 18 20:57:27 2011 | Last modified Sat Apr 27 20:18:40 2013
NetCommons simulates a social dilemma process in case of step-level public goods. Is possible to generate (or load from DL format) any different networks, to change initial parameters, to replicate a number of experimental situations, and to obtain a event history database in CSV format with information about the context of each agents' decision, the individual behavior and the aggregate outcomes.
This website uses cookies and Google Analytics to help us track user engagement and improve our site. If you'd like to know more information about what data we collect and why, please see
our data privacy policy
. If you continue to use this site, you consent to our use of cookies.