Computational Model Library
About the CoMSES Model Library more info
---
Our mission is to help computational modelers at all levels engage in the establishment and adoption of community standards and good practices for developing and sharing computational models. Model authors can freely publish their model source code in the Computational Model Library alongside narrative documentation, open science metadata, and other emerging open science norms that facilitate software citation, reproducibility, interoperability, and reuse. Model authors can also request peer review of their computational models to receive a DOI.
All users of models published in the library must cite model authors when they use and benefit from their code.
Please check out our model publishing tutorial and contact us if you have any questions or concerns about publishing your model(s) in the Computational Model Library.
We also maintain a curated database of over 7500 publications of agent-based and individual based models with additional detailed metadata on availability of code and bibliometric information on the landscape of ABM/IBM publications that we welcome you to explore.
Displaying 3 of 3 results maya clear
Maya Lapp
Colby Long
| Published Wednesday, April 29, 2020 | Last modified Friday, July 23, 2021
This NetLogo ABM builds on Elena Vallino's model of Loggers using community-based natural resource management for a forest ecosystem. In it we introduce an alternative mechanism for Logger cheating and enforcement of CBNRM rules.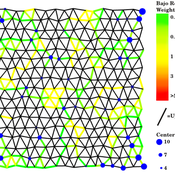 Alex Kara
| Published Tuesday, December 04, 2018 | Last modified Thursday, September 26, 2019
This thesis presents an abstract spatial simulation model of the Maya Central Lowlands coupled human and natural system from 1000 BCE to the present day. It's name is the Climatically Heightened but Anothropogenically Achieved Historical Kerplunk model (CHAAHK). The simulation features features virtual human groups, population centers, transit routes, local resources, and imported resources. Despite its embryonic state, the model demonstrates how certain anthropogenic characteristics of a landscape can interact with externally induced trauma and result in a prolonged period of relative sociopolitical uncomplexity. Analysis of batch simulation output suggests decreasing empirical uncertainties about ancient wetland modification warrants more investment. This first submission of CHAAHK's code represents the simulation's implementation that was featured in the author's master's thesis.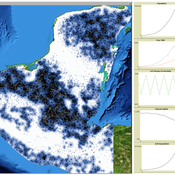 Scott Heckbert
| Published Wednesday, July 11, 2012 | Last modified Tuesday, July 02, 2013
MayaSim is an agent-based, cellular automata and network model of the ancient Maya. Biophysical and anthropogenic processes interact to grow a complex social ecological system.
This website uses cookies and Google Analytics to help us track user engagement and improve our site. If you'd like to know more information about what data we collect and why, please see
our data privacy policy
. If you continue to use this site, you consent to our use of cookies.