Computational Model Library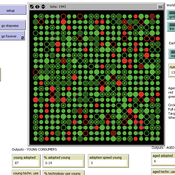 The simulation model SimPLS shows an application of the PLS agent concept, using SEM as empirical basis for the definition of agent architectures. The simulation model implements the PLS path model TAM about the decision of using innovative products.
We propose an agent-based model leading to a decrease or an increase of hostility between agents after a major cultural threat such as a terrorist attack. The model is inspired from the Terror Management Theory and the Social Judgement Theory. An agent has a cultural identity defined through its acceptance segments about each of three different cultural worldviews (i.e., Atheist, Muslim, Christian) of the considered society. An agent's acceptance segment is composed from its acceptable positions toward a cultural worldview, including its most acceptable position. An agent forms an attitude about another agent depending on the similarity between their cultural identities. When a terrorist attack is perpetrated in the name of an extreme cultural identity, the negatively perceived agents from this extreme cultural identity point of view tend to decrease the width of their acceptance segments in order to differentiate themselves more from the threatening cultural identity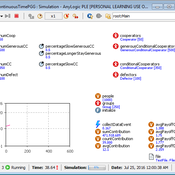 Tuong Vu
| Published Thu May 17 10:39:29 2018 | Last modified Tue Apr 2 09:28:13 2019
To our knowledge, this is the first agent-based simulation of continuous-time PGGs (where participants can change contributions at any time) which are much harder to realise within both laboratory and simulation environments.
Work related to this simulation has been published in the following journal article:
Vu, Tuong Manh, Wagner, Christian and Siebers, Peer-Olaf (2019) 'ABOOMS: Overcoming the Hurdles of Continuous-Time Public Goods Games with a Simulation-Based Approach' Journal of Artificial Societies and Social Simulation 22 (2) 7 http://jasss.soc.surrey.ac.uk/22/2/7.html. doi: 10.18564/jasss.3995
Abstract:
…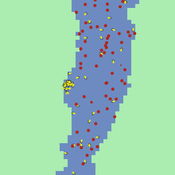 A hybrid predator-prey model of fish and plankton that switches dynamically between ABM and SD representations. It contains 6 related structural designs of the same model.
This website uses cookies and Google Analytics to help us track user engagement and improve our site. If you'd like to know more information about what data we collect and why, please see
our data privacy policy
. If you continue to use this site, you consent to our use of cookies.