PhD Student, Computational Social Science
Department of Computational and Data Sciences
George Mason University
Fairfax, VA, USA
Research Interests
I use ABM to study organizations, leadership, employee behavior and performance, and the social/psychological theories addressing workplace behavior and outcomes.
I have also used ABM to explore mass violence, active shooters, and mass shootings, including the spread of mass violence and its antecedents.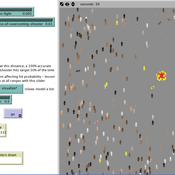 A NetLogo ABM developed to explore unarmed resistance to an active shooter. The landscape is a generalized open outdoor area. Parameters enable the user to set shooter armament and control for assumptions with regard to shooter accuracy.