Computational Model Library
About the CoMSES Model Library more info
---
Our mission is to help computational modelers at all levels engage in the establishment and adoption of community standards and good practices for developing and sharing computational models. Model authors can freely publish their model source code in the Computational Model Library alongside narrative documentation, open science metadata, and other emerging open science norms that facilitate software citation, reproducibility, interoperability, and reuse. Model authors can also request peer review of their computational models to receive a DOI.
All users of models published in the library must cite model authors when they use and benefit from their code.
Please check out our model publishing tutorial and contact us if you have any questions or concerns about publishing your model(s) in the Computational Model Library.
We also maintain a curated database of over 7500 publications of agent-based and individual based models with additional detailed metadata on availability of code and bibliometric information on the landscape of ABM/IBM publications that we welcome you to explore.
Displaying 3 of 3 results mas clear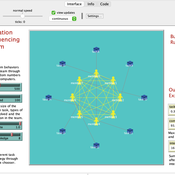 Shaoni Wang
| Published Friday, November 11, 2022 | Last modified Thursday, April 06, 2023
This model system aims to simulate the whole process of task allocation, task execution and evaluation in the team system through a feasible method. On the basis of Complex Adaptive Systems (CAS) theory and Agent-based Modelling (ABM) technologies and tools, this simulation system attempts to abstract real-world teams into MAS models. The author designs various task allocation strategies according to different perspectives, and the interaction among members is concerned during the task-performing process. Additionally, knowledge can be acquired by such an interaction process if members encounter tasks they cannot handle directly. An artificial computational team is constructed through ABM in this simulation system, to replace real teams and carry out computational experiments. In all, this model system has great potential for studying team dynamics, and model explorers are encouraged to expand on this to develop richer models for research.
Hadi Aliahmadi
| Published Wednesday, August 16, 2017 | Last modified Monday, February 26, 2018
We extend the Flache-Mäs model to incorporate the location and dyadic communication regime of the agents in the opinion formation process. We make spatially proximate agents more likely to interact with each other in a pairwise communication regime.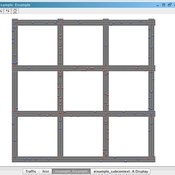 This MAS simulates the traffic of Barcelona Eixample. Uses a centralized AI system in order to control the traffic lights. Car agents are reactive and have no awareness of the intelligence of the system. They (try to) avoid collisions.
This website uses cookies and Google Analytics to help us track user engagement and improve our site. If you'd like to know more information about what data we collect and why, please see
our data privacy policy
. If you continue to use this site, you consent to our use of cookies.