Computational Model Library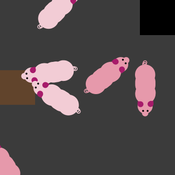 Iris J.M.M. Boumans
| Published Thu May 4 11:46:38 2017 | Last modified Tue Feb 27 11:12:18 2018
The model simulates interaction between internal physiological factors (e.g. energy balance) and external social factors (e.g. competition level) underlying feeding and social interaction behaviour of commercially group-housed pigs.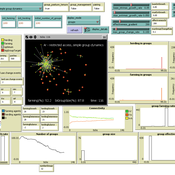 Andreas Angourakis
| Published Fri Feb 5 17:23:29 2016 | Last modified Fri Nov 17 10:20:29 2017
The Nice Musical Chairs (NMC) model represent the competition for space between groups of stakeholders of farming and herding activities in the arid Afro-Eurasia.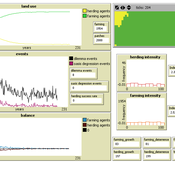 Andreas Angourakis
| Published Wed Feb 3 17:24:15 2016 | Last modified Fri Mar 11 19:17:46 2016
This Agent-Based model intends to explore the conditions for the emergence and change of land use patterns in Central Asian oases and similar contexts.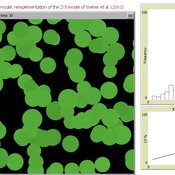 Cyril Piou
| Published Wed Jul 23 09:54:52 2014 | Last modified Thu Dec 11 21:26:34 2014
This model reimplement Weiner et al. 2001 Zone Of Influence model to simulate plant growth under competition. The reimplementation in Netlogo and the ODD description in the "info" tab try to be as consistent as possible with the original paper.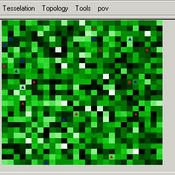 Pierre Bommel
| Published Tue Apr 5 15:09:08 2011 | Last modified Sat Apr 27 20:18:45 2013
The model, presented here, is a re-implementation of the Pepper and Smuts' model : - Pepper, J.W. and B.B. Smuts. 2000. "The evolution of cooperation in an ecological context: an agent-based model". Pp. 45-76 in T.A. Kohler and G.J. Gumerman, eds. Dynamics of human and primate societies: agent-based modeling of social and spatial processes. Oxford University Press, Oxford. - Pepper, J.W. and B.B. Smuts. 2002. "Assortment through Environmental Feedback". American Naturalist, 160: 205-213 […]
This website uses cookies and Google Analytics to help us track user engagement and improve our site. If you'd like to know more information about what data we collect and why, please see
our data privacy policy
. If you continue to use this site, you consent to our use of cookies.