Computational Model Library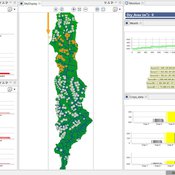 This model is a tool to support water management on Samambaia Basin. On it you can explore different scenarios of policy, management and externalities that could influence the water uses. (Scenarios already tested include less rain and payment on water use)
RHEA aims to provide a methodological platform to simulate the aggregated impact of households' residential location choice and dynamic risk perceptions in response to flooding on urban land markets. It integrates adaptive behaviour into the spatial landscape using behavioural theories and empirical data sources. The platform can be used to assess: how changes in households' preferences or risk perceptions capitalize in property values, how price dynamics in the housing market affect spatial demographics in hazard-prone urban areas, how structural non-marginal shifts in land markets emerge from the bottom up, and how economic land use systems react to climate change. RHEA allows direct modelling of interactions of many heterogeneous agents in a land market over a heterogeneous spatial landscape. As other ABMs of markets it helps to understand how aggregated patterns and economic indices result from many individual interactions of economic agents.
The model could be used by scientists to explore the impact of climate change and increased flood risk on urban resilience, and the effect of various behavioural assumptions on the choices that people make in response to flood risk. It can be used by policy-makers to explore the aggregated impact of climate adaptation policies aimed at minimizing flood damages and the social costs of flood risk.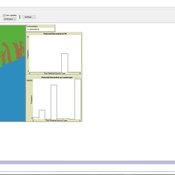 This model is an application of Brantingham's neutral model to a real landscape with real locations of potential sources. The sources are represented as their sizes during current conditions, and from marine geophysics surveys, and the agent starts at a random location in Mossel Bay Region (MBR) surrounding the Archaeological Pinnacle Point (PP) locality, Western Cape, South Africa. The agent moves at random on the landscape, picks up and discards raw materials based only upon space in toolkit and probability of discard. If the agent happens to encounter the PP locality while moving at random the agent may discard raw materials at it based on the discard probability.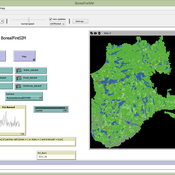 BorealFireSIM is a cellular automaton based model that serves to identify future fire patterns in the boreal forest of Quebec, Canada. The model simulates yearly fire seasons and adjusts decadal climate variables based on two future carbon pathways (RCP45 (low emissions) and RCP85 (business as usual)). The BorealFireSIM model simulates future fire patterns up to the year 2100.
This generic model simulates climate change adaptation in the form of resistance, accommodation, and retreat in coastal regions vulnerable to sea level rise and flooding. It tracks how population changes as households retreat to higher ground.
How does the world population adapt its policies on energy when it is confronted with a climate change? This model combines a climate-economy model with adaptive agents.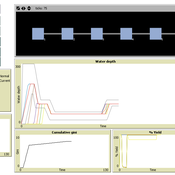 The purpose of the AdaptPumpa model is to analyze the robustness of the Pumpa irrigation system in Nepal to climate change.
This website uses cookies and Google Analytics to help us track user engagement and improve our site. If you'd like to know more information about what data we collect and why, please see
our data privacy policy
. If you continue to use this site, you consent to our use of cookies.