Computational Model Library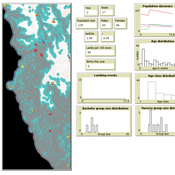 This is an agent-based model coded in NetLogo. The model simulates population dynamics of bighorn sheep population in the Hell's Canyon region of Idaho and will be used to develop a better understanding of pneumonia dynamics in bighorn sheep populations. The overarching objective is to provide a decision-making context for effective management of pneumonia in wild populations of bighorn sheep.
A Repast Simphony model of interactions (conflict and cooperation) between states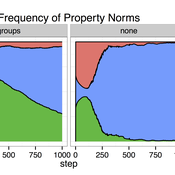 We develop a spatial, evolutionary model of the endogenous formation and dissolution of groups using a renewable common pool resource. We use this foundation to measure the evolutionary pressures at different organizational levels.
We build a computational model to investigate, in an evolutionary setting, a series of questions pertaining to happiness.
Sungho Lee
| Published Sun May 10 06:36:12 2009 | Last modified Sat Apr 27 20:18:48 2013
Agent-based model using Blanche software 4.6.5. Blanche software is included in the dataset file.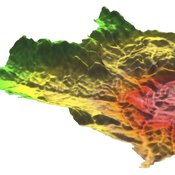 The MML is a hybrid modeling environment that couples an agent-based model of small-holder agropastoral households and a cellular landscape evolution model that simulates changes in erosion/deposition, soils, and vegetation.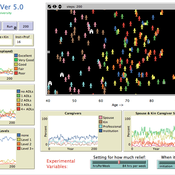 The Carington model is designed to provide insights into the factors affecting informal health care for older adults. It encompasses older adults, caregivers, and factors affecting informal health care. The Carington model includes no submodels.
Jakob Grazzini
| Published Mon Nov 29 19:22:53 2010 | Last modified Sat Apr 27 20:18:30 2013
This Python module contain a function that is able to test the ergodicity of a given agent based model. It is sufficient to produce one long time series and many smaller time series. The function uses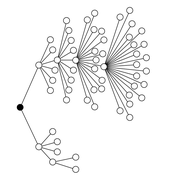 Continuing on from the Adder model, this adaptation explores how rationality, learning and uncertainty influence the exploration of complex landscapes representing technological evolution.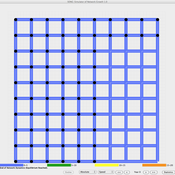 D Levinson
| Published Mon Aug 29 18:11:37 2011 | Last modified Sat Apr 27 20:18:48 2013
SONG is a simulator designed for simulating the process of transportation network growth.
This website uses cookies and Google Analytics to help us track user engagement and improve our site. If you'd like to know more information about what data we collect and why, please see
our data privacy policy
. If you continue to use this site, you consent to our use of cookies.