Computational Model Library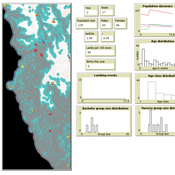 This is an agent-based model coded in NetLogo. The model simulates population dynamics of bighorn sheep population in the Hell's Canyon region of Idaho and will be used to develop a better understanding of pneumonia dynamics in bighorn sheep populations. The overarching objective is to provide a decision-making context for effective management of pneumonia in wild populations of bighorn sheep.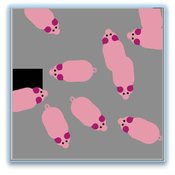 The model simulates tail biting behaviour in pigs and how they can turn into a biter and/or victim. The effect of a redirected motivation, behavioural changes in victims and preference to bite a lying pig on tail biting can be tested in the model
This model aims to investigate how different type of learning (social system) and disturbance specific attributes (ecological system) influence adoption of treatment strategies to treat the effects of ecological disturbances.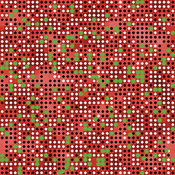 Comparing impact of alternative behavioral theories in a simple social-ecological system.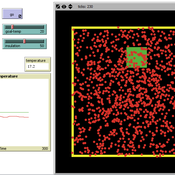 A thermostat is a device that allows to have the temperature in a room near a desire value.
Marco Janssen
| Published Thu Dec 2 23:00:56 2010 | Last modified Sat Apr 27 20:18:53 2013
This model describes the consequences of limited vision of agents in harvesting a common resource. We show the vulnerability of cooperation due to reduced visibility of the resource and other agents.
The Pampas Model is an Agent-Based Model intended to explore the dynamics of structural and land use changes in agricultural systems of the Argentine Pampas in response to climatic, technological economic, and political drivers.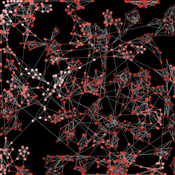 We provide a full description of the model following the ODD protocol (Grimm et al. 2010) in the attached document. The model is developed in NetLogo 5.0 (Wilenski 1999).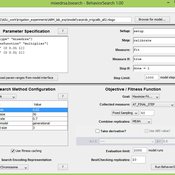 Comparing 7 alternative models of human behavior and assess their performance on a high resolution dataset based on individual behavior performance in laboratory experiments.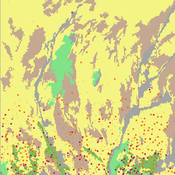 Gudrun Wallentin
| Published Wed Nov 30 13:52:16 2016 | Last modified Tue Jan 10 14:43:13 2017
The model simulates the spatial patterns of secondary forest succession above the current alpine tree line in the context of land use and climate change. Three scenarios are offered: (1) climate change, (2) land use change, (3) species composition.
This website uses cookies and Google Analytics to help us track user engagement and improve our site. If you'd like to know more information about what data we collect and why, please see
our data privacy policy
. If you continue to use this site, you consent to our use of cookies.