Computational Model Library
About the CoMSES Model Library more info
---
CoMSES Net maintains cyberinfrastructure to foster FAIR data principles for access to and (re)use of computational models. Model authors can publish their model code in the Computational Model Library with documentation, metadata, and data dependencies and support these FAIR data principles as well as best practices for software citation. Model authors can also request that their model code be peer reviewed to receive a DOI. All users of models published in the library must cite model authors when they use and benefit from their code.
Please check out our model archive tutorial or contact us if you have any questions or concerns about archiving your model.
CoMSES Net also maintains a curated database of over 7500 publications of agent-based and individual based models with additional metadata on availability of code and bibliometric information on the landscape of ABM/IBM publications that we welcome you to explore.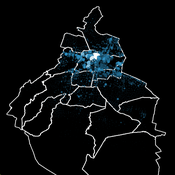 We present here MEGADAPT_SESMO model. A hybrid, dynamic, spatially explicit, integrated model to simulate the vulnerability of urban coupled socio-ecological systems – in our case, the vulnerability of Mexico City to socio-hydrological risk.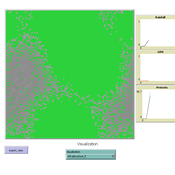 The model simulates the decisions of residents and a water authority to respond to socio-hydrological hazards. Residents from neighborhoods are located in a landscape with topographic complexity and two problems: water scarcity in the peripheral neighborhoods at high altitude and high risk of flooding in the lowlands, at the core of the city. The role of the water authority is to decide where investments in infrastructure should be allocated to reduce the risk to water scarcity and flooding events in the city, and these decisions are made via a multi-objective site selection procedure. This procedure accounts for the interdependencies and feedback between the urban landscape and a policy scenario that defines the importance, or priorities, that the authority places on four criteria.
Neighborhoods respond to the water authority decisions by protesting against the lack of investment and the level of exposure to water scarcity and flooding. Protests thus simulate a form of feedback between local-level outcomes (flooding and water scarcity) and higher-level decision-making. Neighborhoods at high altitude are more likely to be exposed to water scarcity and lack infrastructure, whereas neighborhoods in the lowlands tend to suffer from recurrent flooding. The frequency of flooding is also a function of spatially uniform rainfall events. Likewise, neighborhoods at the periphery of the urban landscape lack infrastructure and suffer from chronic risk of water scarcity.
The model simulates the coupling between the decision-making processes of institutional actors, socio-political processes and infrastructure-related hazards. In the documentation, we describe details of the implementation in NetLogo, the description of the procedures, scheduling, and the initial conditions of the landscape and the neighborhoods.
This work was supported by the National Science Foundation under Grant No. 1414052, CNH: The Dynamics of Multi-Scalar Adaptation in Megacities (PI Hallie Eakin).
This website uses cookies and Google Analytics to help us track user engagement and improve our site. If you'd like to know more information about what data we collect and why, please see
our data privacy policy
. If you continue to use this site, you consent to our use of cookies.