Computational Model Library
About the CoMSES Model Library more info
---
CoMSES Net maintains cyberinfrastructure to foster FAIR data principles for access to and (re)use of computational models. Model authors can publish their model code in the Computational Model Library with documentation, metadata, and data dependencies and support these FAIR data principles as well as best practices for software citation. Model authors can also request that their model code be peer reviewed to receive a DOI. All users of models published in the library must cite model authors when they use and benefit from their code.
Please check out our model archive tutorial or contact us if you have any questions or concerns about archiving your model.
CoMSES Net also maintains a curated database of over 7500 publications of agent-based and individual based models with additional metadata on availability of code and bibliometric information on the landscape of ABM/IBM publications that we welcome you to explore.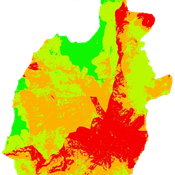 Studies of colonization processes in past human societies often use a standard population model in which population is represented as a single quantity. Real populations in these processes, however, are structured with internal classes or stages, and classes are sometimes created based on social differentiation. In this present work, information about the colonization of old Providence Island was used to create an agent-based model of the colonization process in a heterogeneous environment for a population with social differentiation. Agents were socially divided into two classes and modeled with dissimilar spatial clustering preferences. The model and simulations assessed the importance of gregarious behavior for colonization processes conducted in heterogeneous environments by socially-differentiated populations. Results suggest that in these conditions, the colonization process starts with an agent cluster in the largest and most suitable area. The spatial distribution of agents maintained a tendency toward randomness as simulation time increased, even when gregariousness values increased. The most conspicuous effects in agent clustering were produced by the initial conditions and behavioral adaptations that increased the agent capacity to access more resources and the likelihood of gregariousness. The approach presented here could be used to analyze past human colonization events or support long-term conceptual design of future human colonization processes with small social formations into unfamiliar and uninhabited environments.
Our model allows simulating repeated conservation auctions in low-income countries. It is designed to assess policy-making by exploring the extent to which non-targeted repeated auctions can provide biodiversity conservation cost-effectively, while alleviating poverty. Targeting landholders in order to integrate both goals is claimed to be overambitious and underachieving because of the trade-offs they imply. The simulations offer insight on the possible outcomes that can derive from implementing conservation auctions in low-income countries, where landholders are likely to be risk averse and to face uncertainty.
The model explores the emergence of inequality in cognitive and socio-emotional skills at the societal level within and across generations that results from differences in parental investment behavior during childhood and adolescence.
This website uses cookies and Google Analytics to help us track user engagement and improve our site. If you'd like to know more information about what data we collect and why, please see
our data privacy policy
. If you continue to use this site, you consent to our use of cookies.