Computational Model Library
This is the code for a simulation model of the radicalisation process based on the IVEE theoretical framework.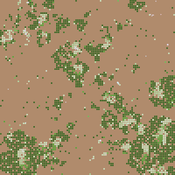 Peer reviewed
B3GET
Kristin Crouse
| Published Thu Nov 14 20:07:16 2019 | Last modified Tue Nov 19 17:42:04 2019
B3GET simulates populations of virtual organisms evolving over generations, whose evolutionary outcomes reflect the selection pressures of their environment. The model simulates several factors considered important in biology, including life history trade-offs, investment in fighting ability and aggression, sperm competition, infanticide, and competition over access to food and mates. Downloaded materials include a starting genotype and population files. Edit the these files and see what changes occur in the behavior of virtual populations!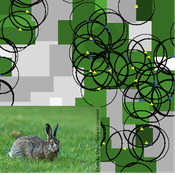 The model is designed to analyse the effects of mitigation measures on the European brown hare (Lepus europaeus), which is directly affected by ongoing land use change and has experienced widespread decline throughout Europe since the 1960s. As an input, we use two 4×4 km large model landscapes, which were generated by a landscape generator based on real field sizes and crop proportions and differed in average field size and crop composition. The crops grown annually are evaluated in terms of forage suitability, breeding suitability and crop richness for the hare. Six mitigation scenarios are implemented, defined by a 10 % increase in: (1) mixed silphie, (2) miscanthus, (3) grass-clover ley, (4) alfalfa, (5) set-aside, and (6) general crop richness. The model shows that that both landscape configuration and composition have a significant effect on hare population development, which responds particularly strongly to compositional changes.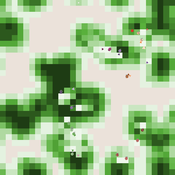 Kristin Crouse
| Published Mon Nov 11 07:30:59 2019 | Last modified Mon Nov 25 07:25:33 2019
B3GET Classic includes previous versions used in the classroom and for publication. Please check out the latest version of B3GET here, which has several user-friendly features such as directly importing and exporting genotype and population files.
The classic versions of B3GET include: version one was and version three is currently used in undergraduate labs at the University of Minnesota to demonstrate principles in primate behavioral ecology; version two first demonstrated proof of concept for creating virtual biological organisms using decision-vector technology; version four was presented at the 2017 annual meeting at the American Association of Physical Anthropologists; version five was presented in a 2019 publication from the Journal of Human Evolution (Crouse, Miller, and Wilson, 2019).
This is an urban dynamics ABM of abstraction of a city and residents' activities there.
It allows you to evaluate the effects of urban policies, such as an introduction of an open facility for residents with pedestrian-friendly accommodations, promotion of bicycle use, and control of private automobile use in an urban central area, in controlling urban sprawl.
This model takes into consideration Peer Reviewing under the influence of Impact Factor (PRIF) and it has the purpose to explore whether the infamous metric affects assessment of papers under review. The idea is to consider to types of reviewers, those who are agnostic towards IF (IU1) and those that believe that it is a measure of journal (and article) quality (IU2). This perception is somehow reflected in the evaluation, because the perceived scientific value of a paper becomes a function of the journal in which an article has been submitted. Various mechanisms to update reviewer preferences are also implemented.
This model is part of a JASSS article that introduce a conceptual framework for developing hybrid (system dynamics and agent-based) integrated assessment models, which focus on examining the human impacts on climate change. This novel modelling approach allows to reuse existing rigid, but well-established integrated assessment models, and adds more flexibility by replacing aggregate stocks with a community of vibrant interacting entities. The model provides a proof-of-concept of the application of this conceptual framework in form of an illustrative example. taking the settings of the US. It is solely created for the purpose of demonstrating our hybrid modelling approach; we do not claim that it has predictive powers.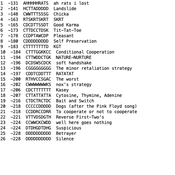 Kristin Crouse
| Published Wed Nov 6 05:39:54 2019 | Last modified Thu Dec 5 08:00:54 2019
This model replicates the Axelrod prisoner's dilemma tournaments. The model takes as input a file of strategies and pits them against each other to see who achieves the best payoff in the end. Change the payoff structure to see how it changes the tournament outcome!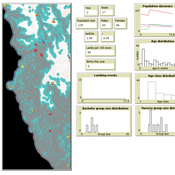 This is an agent-based model coded in NetLogo. The model simulates population dynamics of bighorn sheep population in the Hell's Canyon region of Idaho and will be used to develop a better understanding of pneumonia dynamics in bighorn sheep populations. The overarching objective is to provide a decision-making context for effective management of pneumonia in wild populations of bighorn sheep.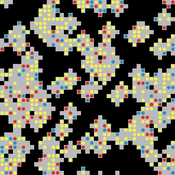 This model explores different aspects of the formation of urban neighbourhoods where residents believe in values distant from those dominant in society. Or, at least, this is what the Danish government beliefs when they discuss their politics about parallel societies. This simulation is set to understand (a) whether these alternative values areas form and what determines their formation, (b) if they are linked to low or no income residents, and (c) what happens if they disappear from the map. All these three points are part of the Danish government policy. This agent-based model is set to understand the boundaries and effects of this policy.
This website uses cookies and Google Analytics to help us track user engagement and improve our site. If you'd like to know more information about what data we collect and why, please see
our data privacy policy
. If you continue to use this site, you consent to our use of cookies.