Computational Model Library
Eixample-MAS Traffic Simulation (version 1.0.0)
Description
This MAS simulates the traffic of Barcelona Eixample.
Uses a centralized AI system in order to control the traffic lights.
Car agents are reactive and have no awareness of the intelligence of the system. They (try to) avoid collisions.
TODO: Implement Distributed AI and add other functionalities to car agents.
What does it do?
Reduces the arrival time in city traffic using intelligent Traffic Lights. They know how many cars are in their streets and ask the centralized system if it can change its state (from red to green).
more at: http://alex-pardo.github.com/Eixample-MAS-Traffic-Simulation/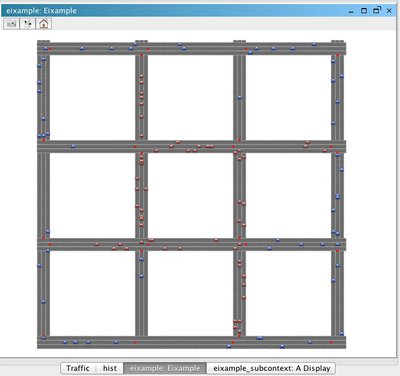 | Version | Submitter | First published | Last modified | Status |
| --- | --- | --- | --- | --- |
| 1.0.0 | Àlex Pardo | Tue Jan 22 09:33:39 2013 | Sat Apr 27 20:18:30 2013 | Published |
---
Discussion
This website uses cookies and Google Analytics to help us track user engagement and improve our site. If you'd like to know more information about what data we collect and why, please see
our data privacy policy
. If you continue to use this site, you consent to our use of cookies.