Computational Model Library
About the CoMSES Model Library more info
---
CoMSES Net maintains cyberinfrastructure to foster FAIR data principles for access to and (re)use of computational models. Model authors can publish their model code in the Computational Model Library with documentation, metadata, and data dependencies and support these FAIR data principles as well as best practices for software citation. Model authors can also request that their model code be peer reviewed to receive a DOI. All users of models published in the library must cite model authors when they use and benefit from their code.
Please check out our model archive tutorial or contact us if you have any questions or concerns about archiving your model.
CoMSES Net also maintains a curated database of over 7500 publications of agent-based and individual based models with additional metadata on availability of code and bibliometric information on the landscape of ABM/IBM publications that we welcome you to explore.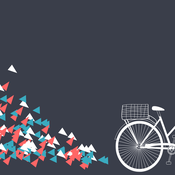 The purpose of the model is to generate the spatio-temporal distribution of bicycle traffic flows at a regional scale level. Disaggregated results are computed for each network segment with the minute time step. The human decision-making is governed by probabilistic rules derived from the mobility survey.
A draft model teaching how a Roman transport model can be imported into Netlogo, and the issues confronted when importing and reusing open access Roman datasets. This model is used for the tutorial:
Brughmans, T. (2018). Importing a Roman Transport network with Netlogo, Tutorial, https://archaeologicalnetworks.wordpress.com/resources/#transport .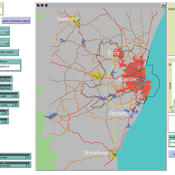 Ge, J., & Polhill, G. (2016). Exploring the Combined Impact of Factors Influencing Commuting Patterns and CO2 Emission in Aberdeen Using an Agent-Based Model. Journal of Artificial Societies and Social Simulation, 19(3). http://jasss.soc.surrey.ac.uk/19/3/11.html
We develop an agent-based transport model using a realistic GIS-enabled road network and the car following method. The model can be used to study the impact of social interventions such as flexi-time and workplace sharing, as well as large infrastructure such as the construction of a bypass or highway. The model is developed in Netlogo version 5 and requires road network data in GIS format to run.
This website uses cookies and Google Analytics to help us track user engagement and improve our site. If you'd like to know more information about what data we collect and why, please see
our data privacy policy
. If you continue to use this site, you consent to our use of cookies.