No bio entered.
Research Interests
Spatial simulations in transport modelling domain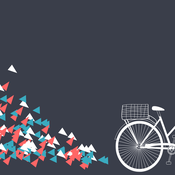 The purpose of the model is to generate the spatio-temporal distribution of bicycle traffic flows at a regional scale level. Disaggregated results are computed for each network segment with the minute time step. The human decision-making is governed by probabilistic rules derived from the mobility survey.
The model generates disaggregated traffic flows of pedestrians, simulating their daily mobility behaviour represented as probabilistic rules. Various parameters of physical infrastructure and travel behaviour can be altered and tested. This allows predicting potential shifts in traffic dynamics in a simulated setting. Moreover, assumptions in decision-making processes are general for mid-sized cities and can be applied to similar areas.
Together with the model files, there is the ODD protocol with the detailed description of model's structure. Check the associated publication for results and evaluation of the model.
Installation
Download GAMA-platform (GAMA1.8.2 with JDK version) from https://gama-platform.github.io/. The platform requires a minimum of 4 GB of RAM.
…