Computational Model Library
About the CoMSES Model Library more info
---
Our mission is to help computational modelers at all levels engage in the establishment and adoption of community standards and good practices for developing and sharing computational models. Model authors can freely publish their model source code in the Computational Model Library alongside narrative documentation, open science metadata, and other emerging open science norms that facilitate software citation, reproducibility, interoperability, and reuse. Model authors can also request peer review of their computational models to receive a DOI.
All users of models published in the library must cite model authors when they use and benefit from their code.
Please check out our model publishing tutorial and contact us if you have any questions or concerns about publishing your model(s) in the Computational Model Library.
We also maintain a curated database of over 7500 publications of agent-based and individual based models with additional detailed metadata on availability of code and bibliometric information on the landscape of ABM/IBM publications that we welcome you to explore.
Displaying 3 of 3 results CO2 emission clear
Under the Kyoto Protocol, governments agreed on and accepted CO2 reduction targets in order to counter climate change. In Europe one of the main policy instruments to meet the agreed reduction targets is CO2 emission-trading (CET), which was implemented as of January 2005. In this system, companies active in specific sectors must be in the possession of CO2 emission rights to an amount equal to their CO2 emission. In Europe, electricity generation accounts for one-third of CO2 emissions. Since the power generation sector, has been liberalized, reregulated and privatized in the last decade, around Europe autonomous companies determine the sectors' CO2 emission. Short-term they adjust their operation, long-term they decide on (dis)investment in power generation facilities and technology selection. An agent-based model is presented to elucidate the effect of CET on the decisions of power companies in an oligopolistic market. Simulations over an extensive scenario-space show that there CET does have an impact. A long-term portfolio shift towards less-CO2 intensive power generation is observed. However, the effect of CET is relatively small and materializes late. The absolute emissions from power generation rise under most scenarios. This corresponds to the dominant character of current capacity expansion planned in the Netherlands (50%) and in Germany (68%), where companies have announced many new coal based power plants. Coal is the most CO2 intensive option available and it seems surprising that even after the introduction of CET these capacity expansion plans indicate a preference for coal. Apparently in power generation the economic effect of CO2 emission-trading is not sufficient to outweigh the economic incentives to choose for coal.
The BENCH agent-based model is designed and developed to study shifts in residential energy use and corresponding emissions driven by behavioral changes among heterogeneous individuals.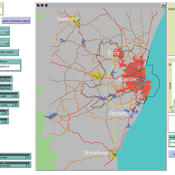 Ge, J., & Polhill, G. (2016). Exploring the Combined Impact of Factors Influencing Commuting Patterns and CO2 Emission in Aberdeen Using an Agent-Based Model. Journal of Artificial Societies and Social Simulation, 19(3). http://jasss.soc.surrey.ac.uk/19/3/11.html
We develop an agent-based transport model using a realistic GIS-enabled road network and the car following method. The model can be used to study the impact of social interventions such as flexi-time and workplace sharing, as well as large infrastructure such as the construction of a bypass or highway. The model is developed in Netlogo version 5 and requires road network data in GIS format to run.
This website uses cookies and Google Analytics to help us track user engagement and improve our site. If you'd like to know more information about what data we collect and why, please see
our data privacy policy
. If you continue to use this site, you consent to our use of cookies.