Computational Model Library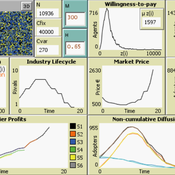 Martin Rixin
| Published Wed Oct 19 13:42:28 2011 | Last modified Sat Apr 27 20:18:17 2013
Several taxonomies for empirical validation have been published. Our model integrates different methods to calibrate an innovation diffusion model, ranging from simple randomized input validation to complex calibration with the use of microdata.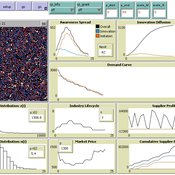 Martin Rixin
| Published Mon Aug 29 14:34:26 2011 | Last modified Sat Apr 27 20:18:17 2013
Objective is to simulate policy interventions in an integrated demand-supply model. The underlying demand function links both sides. Diffusion proceeds if interactions distribute awareness (Epidemic effect) and rivalry reduces the market price (Probit effect). Endogeneity is given due to the fact that consumer awareness as well as their willingness-to-pay drives supply-side rivalry. Firm´s entry and exit decisions as well as quantity and price settings are driven by Cournot competition.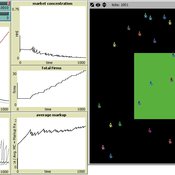 Timothy Kochanski
| Published Mon Feb 14 17:04:04 2011 | Last modified Sat Apr 27 20:18:51 2013
This is the model for a paper that is based on a simulation model, programmed in Netlogo, that demonstrates changes in market structure that occur as marginal costs, demand, and barriers to entry change. Students predict and observe market structure changes in terms of number of firms, market concentration, market price and quantity, and average marginal costs, profits, and markups across the market as firms innovate. By adjusting the demand growth and barriers to entry, students can […]
This website uses cookies and Google Analytics to help us track user engagement and improve our site. If you'd like to know more information about what data we collect and why, please see
our data privacy policy
. If you continue to use this site, you consent to our use of cookies.