Computational Model Library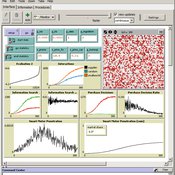 Martin Rixin
| Published Thu Aug 18 10:29:34 2011 | Last modified Sat Apr 27 20:18:17 2013
An Agent-based model simulates consumer demand for Smart Metering tariffs. It utilizes the Bass Diffusion Model and Rogers´s adopter categories. Integration of empirical census microdata enables a validated socio-economic background for each consumer.
Rosanna Garcia
| Published Wed Sep 22 21:01:39 2010 | Last modified Sat Apr 27 20:18:21 2013
This is a model of the diffusion of alternative fuel vehicles based on manufacturer designs and consumer choices of those designs. It is written in Netlogo 4.0.3. Because it requires data to upload
rolanmd
| Published Mon Aug 9 18:08:37 2010 | Last modified Sat Apr 27 20:18:39 2013
In this presentation, we use the concept of meme to explore evolution of demand.
This website uses cookies and Google Analytics to help us track user engagement and improve our site. If you'd like to know more information about what data we collect and why, please see
our data privacy policy
. If you continue to use this site, you consent to our use of cookies.