Computational Model Library
Computational Model Library
The purpose of the simulation was to explore and better understand the process of bridging between an analysis of qualitative data and the specification of a simulation. This may be developed for more serious processes later but at the moment it is merely an illustration.
This exercise was done by Stephanie Dornschneider (School of Politics and International Relations, University College Dublin) and Bruce Edmonds to inform the discussion at the Lorentz workshop on "Integrating Qualitative and Quantitative Data using Social Simulation" at Leiden in April 2019. The qualitative data was collected and analysed by SD. The model specification was developed as the result of discussion by BE & SD. The model was programmed by BE. This is described in a paper submitted to Social Simulation 2019 and (to some extent) in the slides presented at the workshop.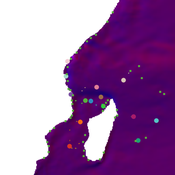 The model represents migration of the green sea turtle, Chelonia mydas, between foraging and breeding sites in the Southwest Indian Ocean. The purpose of the model is to investigate the impact of local environmental conditions, including the quality of foraging sites and ocean currents, on emerging migratory corridors and reproductive output and to thereby identify conservation priority sites.
Stephanie Hintze
| Published Mon Apr 14 19:37:19 2014 | Last modified Thu Oct 16 13:53:57 2014
Inspired by the SKIN model, the basic concept here is to model the acceptance and implementation of supplier innovations. This model includes three types of agents comprising suppliers, manufacturers and applicators.
This website uses cookies and Google Analytics to help us track user engagement and improve our site. If you'd like to know more information about what data we collect and why, please see
our data privacy policy
. If you continue to use this site, you consent to our use of cookies.