Computational Model Library
About the CoMSES Model Library more info
---
CoMSES Net maintains cyberinfrastructure to foster FAIR data principles for access to and (re)use of computational models. Model authors can publish their model code in the Computational Model Library with documentation, metadata, and data dependencies and support these FAIR data principles as well as best practices for software citation. Model authors can also request that their model code be peer reviewed to receive a DOI. All users of models published in the library must cite model authors when they use and benefit from their code.
Please check out our model archive tutorial or contact us if you have any questions or concerns about archiving your model.
CoMSES Net also maintains a curated database of over 7500 publications of agent-based and individual based models with additional metadata on availability of code and bibliometric information on the landscape of ABM/IBM publications that we welcome you to explore.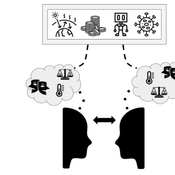 The intention of this model is to create an universal basis on how to model change in value prioritizations within social simulation. This model illustrates the designing of heterogeneous populations within agent-based social simulations by equipping agents with Dynamic Value-based Cognitive Architectures (DVCA-model). The DVCA-model uses the psychological theories on values by Schwartz (2012) and character traits by McCrae and Costa (2008) to create an unique trait- and value prioritization system for each individual. Furthermore, the DVCA-model simulates the impact of both social persuasion and life-events (e.g. information, experience) on the value systems of individuals by introducing the innovative concept of perception thermometers. Perception thermometers, controlled by the character traits, operate as buffers between the internal value prioritizations of agents and their external interactions. By introducing the concept of perception thermometers, the DVCA-model allows to study the dynamics of individual value prioritizations under a variety of internal and external perturbations over extensive time periods. Possible applications are the use of the DVCA-model within artificial sociality, opinion dynamics, social learning modelling, behavior selection algorithms and social-economic modelling.
Micro-targeted vs stochastic political campaigning agent-based model simulation. Written by Toby D. Pilditch (University of Oxford, University College London), in collaboration with Jens K. Madsen (University of Oxford, London School of Economics)
The purpose of the model is to explore the various impacts on voting intention among a population sample, when both stochastic (traditional) and Micto-targeted campaigns (MTCs) are in play. There are several stages of the model: initialization (setup), campaigning (active running protocols) and vote-casting (end of simulation). The campaigning stage consists of update cycles in which "voters" are targeted and "persuaded" - updating their beliefs in the campaign candidate / policies.
We develop an IBM that predicts how interactions between elephants, poachers, and law enforcement affect poaching levels within a virtual protected area. The model is theoretical at this stage and is not meant to provide a realistic depiction of poaching, but instead to demonstrate how IBMs can expand upon the existing modelling work done in this field, and to provide a framework for future research. The model could be further developed into a useful management support tool to predict the outcomes of various poaching mitigation strategies at real-world locations. The model was implemented in NetLogo version 6.1.0.
We first compared a scenario in which poachers have prescribed, non-adaptive decision-making and move randomly across the landscape, to one in which poachers adaptively respond to their memories of elephant locations and where other poachers have been caught by law enforcement. We then compare a situation in which ranger effort is distributed unevenly across the protected area to one in which rangers patrol by adaptively following elephant matriarchal herds.
This website uses cookies and Google Analytics to help us track user engagement and improve our site. If you'd like to know more information about what data we collect and why, please see
our data privacy policy
. If you continue to use this site, you consent to our use of cookies.