Computational Model Library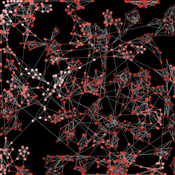 We provide a full description of the model following the ODD protocol (Grimm et al. 2010) in the attached document. The model is developed in NetLogo 5.0 (Wilenski 1999).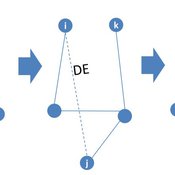 Peng Shao
| Published Mon May 14 08:26:17 2018
In the consumer advice network, users with connections can interact with each other, and the network topology will change during the opinion interaction. When the opinion distance from i to j is greater than the confidence threshold, the two consumers cannot exchange opinions, and the link between them will disconnect with probability DE. Then, a link from node i to node k is established with probability CE and node i learning opinion from node k.
Righi S., Takacs K., Social Closure and the Evolution of Cooperation via Indirect Reciprocity, Resubmitted after Revisions to Scientific Reports
This is a coupled conceptual model of agricultural land decision-making and incentivisation and species metacommunities.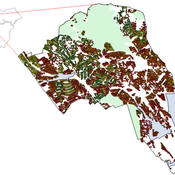 A model to show the effects of flood risk on a housing market; the role of flood protection for risk reduction; the working of the existing public-private flood insurance partnership in the UK, and the proposed scheme 'Flood Re'.
This Netlogo replication of Kollman, K., J.H. Miller and S.E. Page (1997) Political Institutions and Sorting in a Tiebout Model, American Economic Review 87(5): 977-992. The model consists of of citizens who can vote for partie and move to other jurisdictions if they expect their preferences are better served. Parties adjust their positions to increase their share in the elections.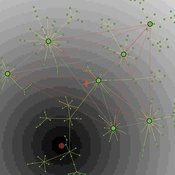 Building upon the distance-based Hotelling's differentiation idea, we describe the behavioral experience of several prototypes of consumers, who walk a hypothetical cognitive path in an attempt to maximize their satisfaction.
Jacopo Baggio
| Published Thu Nov 10 19:35:38 2011 | Last modified Sat Apr 27 20:18:37 2013
A simple model to assess the effect of connectivity on interacting species (i.e. predator-prey type)
We present an Agent-Based Stock Flow Consistent Multi-Country model of a Currency Union to analyze the impact of changes in the fiscal regimes that is permanent changes in the deficit-to-GDP targets that governments commit to comply.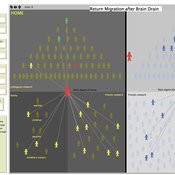 This model, realized on the NetLogo platform, compares utility levels at home and abroad to simulate agents' migration and their eventual return. Our model is based on two fundamental individual features, i.e. risk aversion and initial expectation, which characterize the dynamics of different agents according to the evolution of their social contacts.
This website uses cookies and Google Analytics to help us track user engagement and improve our site. If you'd like to know more information about what data we collect and why, please see
our data privacy policy
. If you continue to use this site, you consent to our use of cookies.