Computational Model Library
Computational Model Library
Takács, K. and Squazzoni, F. 2015. High Standards Enhance Inequality in Idealized Labor Markets. Journal of Artificial Societies and Social Simulation, 18(4), 2, http://jasss.soc.surrey.ac.uk/18/4/2.html
We built a simple model of an idealized labor market, in which there is no objective difference in average quality between groups and hiring decisions are not biased in favor of any particular group. Our results show that inequality in employment emerges necessarily also in such idealized situations due to the limited supply of high quality individuals and asymmetric information. Inequalities are exacerbated when employers have high standards and keep only the best workers in house. We found that ambitious workers get higher quality jobs even if ambition does not correlate or even negatively correlates with internal quality. Our findings help to corroborate empirical findings on higher employment discrepancies in high rather than low status jobs.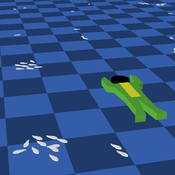 Miguel Pais
| Published Tue Dec 6 17:39:57 2016 | Last modified Thu Feb 9 11:45:23 2017
The FishCensus model simulates underwater visual census methods, where a diver estimates the abundance of fish. A separate model is used to shape species behaviours and save them to a file that can be shared and used by the counting model.
This website uses cookies and Google Analytics to help us track user engagement and improve our site. If you'd like to know more information about what data we collect and why, please see
our data privacy policy
. If you continue to use this site, you consent to our use of cookies.