Computational Model Library
About the CoMSES Model Library more info
---
Our mission is to help computational modelers at all levels engage in the establishment and adoption of community standards and good practices for developing and sharing computational models. Model authors can freely publish their model source code in the Computational Model Library alongside narrative documentation, open science metadata, and other emerging norms that facilitate software citation, archival, interoperability, and reuse. Model authors can also request that their model code be peer reviewed to receive a DOI.
All users of models published in the library must cite model authors when they use and benefit from their code.
Please check out our model archive tutorial or contact us if you have any questions or concerns about publishing your model(s) in the Computational Model Library.
We also maintain a curated database of over 7500 publications of agent-based and individual based models with additional detailed metadata on availability of code and bibliometric information on the landscape of ABM/IBM publications that we welcome you to explore.
Displaying 3 of 3 results sampling bias clear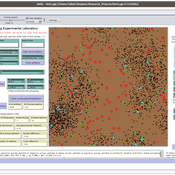 Isaac Ullah
| Published Friday, March 11, 2022 | Last modified Wednesday, June 01, 2022
The Archaeological Sampling Experimental Laboratory (tASEL) is an interactive tool for setting up and conducting experiments about sampling strategies for archaeological excavation, survey, and prospection.
Takács, K. and Squazzoni, F. 2015. High Standards Enhance Inequality in Idealized Labor Markets. Journal of Artificial Societies and Social Simulation, 18(4), 2, http://jasss.soc.surrey.ac.uk/18/4/2.html
We built a simple model of an idealized labor market, in which there is no objective difference in average quality between groups and hiring decisions are not biased in favor of any particular group. Our results show that inequality in employment emerges necessarily also in such idealized situations due to the limited supply of high quality individuals and asymmetric information. Inequalities are exacerbated when employers have high standards and keep only the best workers in house. We found that ambitious workers get higher quality jobs even if ambition does not correlate or even negatively correlates with internal quality. Our findings help to corroborate empirical findings on higher employment discrepancies in high rather than low status jobs.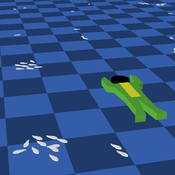 Miguel Pais
| Published Tuesday, December 06, 2016 | Last modified Thursday, February 09, 2017
The FishCensus model simulates underwater visual census methods, where a diver estimates the abundance of fish. A separate model is used to shape species behaviours and save them to a file that can be shared and used by the counting model.
This website uses cookies and Google Analytics to help us track user engagement and improve our site. If you'd like to know more information about what data we collect and why, please see
our data privacy policy
. If you continue to use this site, you consent to our use of cookies.