Computational Model Library
About the CoMSES Model Library more info
---
CoMSES Net maintains cyberinfrastructure to foster FAIR data principles for access to and (re)use of computational models. Model authors can publish their model code in the Computational Model Library with documentation, metadata, and data dependencies and support these FAIR data principles as well as best practices for software citation. Model authors can also request that their model code be peer reviewed to receive a DOI. All users of models published in the library must cite model authors when they use and benefit from their code.
Please check out our model archive tutorial or contact us if you have any questions or concerns about archiving your model.
CoMSES Net also maintains a curated database of over 7500 publications of agent-based and individual based models with additional metadata on availability of code and bibliometric information on the landscape of ABM/IBM publications that we welcome you to explore.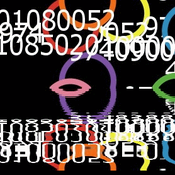 Cosimo Leuci
| Published Tue Oct 27 21:15:40 2020 | Last modified Sun Jul 31 09:08:14 2022
A minimal genetic algorithm was previously developed in order to solve an elementary arithmetic problem. It has been modified to explore the effect of a mutator gene and the consequent entrance into a hypermutation state. The phenomenon seems relevant in some types of tumorigenesis and in a more general way, in cells and tissues submitted to chronic sublethal environmental or genomic stress.
For a long time, some scholars suppose that organisms speed up their own evolution by varying mutation rate, but evolutionary biologists are not convinced that evolution can select a mechanism promoting more (often harmful) mutations looking forward to an environmental challenge.
The model aims to shed light on these controversial points of view and it provides also the features required to check the role of sex and genetic recombination in the mutator genes diffusion.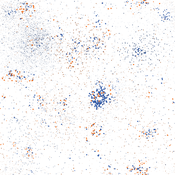 Kristin Crouse
| Published Sun Jun 5 08:24:01 2016 | Last modified Mon Feb 15 15:40:39 2021
Evolution of Sex is a NetLogo model that illustrates the advantages and disadvantages of sexual and asexual reproductive strategies. It seeks to demonstrate the answer to the question "Why do we have sex?"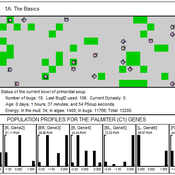 PSoup is an educational program in which evolution is demonstrated, on the desk-top, as you watch. Blind bugs evolve sophisticated heuristic search algorithms to be the best at finding food fast.
This website uses cookies and Google Analytics to help us track user engagement and improve our site. If you'd like to know more information about what data we collect and why, please see
our data privacy policy
. If you continue to use this site, you consent to our use of cookies.