Dr. Morteza Mahmoudzadeh is an assitant professor at the University of Azad at Tabriz in the Department of Managent and the director of the Policy Modeling Research Lab. Dr. Mahmoudzadeh did a degree in Software Engineering and a PhD in System Sciences. Dr. Mahmoudzadeh currently works on different regional and national wide projects about modeling sustaiblity and resilience of industrial ecosystems, innovation networks and socio-environmental systems. He also works on hybrid models of opinion dynamics and agent based models specifically in the field of modeling customers behavior and developing managerial tools for strategic marketing policy testing. His team at Policy Modeling Research Lab. currently work on developing a web based tool with python for systems modeling using system dynamics, Messa framework for agent-based modeling and Social Networks Analysis.
Research Interests
Modeling Complex systems, Simulation: System Dynamics, Agent Based and Discrete Event
System and Complexity Theory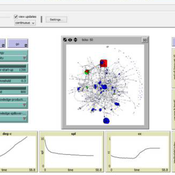 Modified SKIN Model based on absorptive capacity concept.