Computational Model Library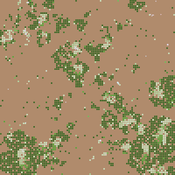 Peer reviewed
B3GET
Kristin Crouse
| Published Thu Nov 14 20:07:16 2019 | Last modified Tue Nov 19 17:42:04 2019
B3GET simulates populations of virtual organisms evolving over generations, whose evolutionary outcomes reflect the selection pressures of their environment. The model simulates several factors considered important in biology, including life history trade-offs, investment in fighting ability and aggression, sperm competition, infanticide, and competition over access to food and mates. Downloaded materials include a starting genotype and population files. Edit the these files and see what changes occur in the behavior of virtual populations!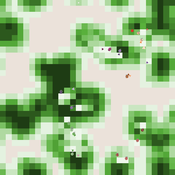 Kristin Crouse
| Published Mon Nov 11 07:30:59 2019 | Last modified Mon Nov 25 07:25:33 2019
B3GET Classic includes previous versions used in the classroom and for publication. Please check out the latest version of B3GET here, which has several user-friendly features such as directly importing and exporting genotype and population files.
The classic versions of B3GET include: version one was and version three is currently used in undergraduate labs at the University of Minnesota to demonstrate principles in primate behavioral ecology; version two first demonstrated proof of concept for creating virtual biological organisms using decision-vector technology; version four was presented at the 2017 annual meeting at the American Association of Physical Anthropologists; version five was presented in a 2019 publication from the Journal of Human Evolution (Crouse, Miller, and Wilson, 2019).
This website uses cookies and Google Analytics to help us track user engagement and improve our site. If you'd like to know more information about what data we collect and why, please see
our data privacy policy
. If you continue to use this site, you consent to our use of cookies.