Computational Model Library
The BENCH agent-based model is designed and developed to study shifts in residential energy use and corresponding emissions driven by behavioral changes among heterogeneous individuals.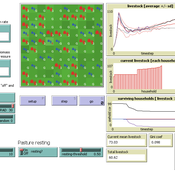 RAGE models a stylized common property grazing system. Agents follow a certain behavioral type. The model allows analyzing how household behavior with respect to a social norm on pasture resting affects long-term social-ecological system dynamics.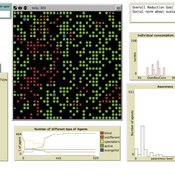 Giovanna Sissa
| Published Sun Jun 21 11:41:38 2015 | Last modified Mon Aug 17 16:07:15 2015
The model reproduces the spread of environmental awareness among agents and the impact of awareness level of the agents on the consumption of a resource, like energy. An agent is a household with a set of available advanced smart metering functions.
This website uses cookies and Google Analytics to help us track user engagement and improve our site. If you'd like to know more information about what data we collect and why, please see
our data privacy policy
. If you continue to use this site, you consent to our use of cookies.