Computational Model Library
Project for the course "Introduction to Agent-Based Modeling".
The NetLogo model implements an Opinion Dynamics model with different confidence distributions, inspired by the Bounded Confidence model presented by Hegselmann and Krause in 2002. Hegselmann and Krause used a model with uniform distribution of confidence, but one could imagine agents that are more confident in their own opinions than others. Confidence with triangular, semi-circular, and Gaussian distributions are implemented. Moreover, network structure is optional and can be taken into account in the agent's confidence such that agents assign less confidence the further away from them other agents are.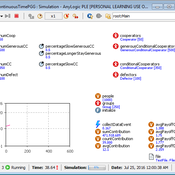 Tuong Vu
| Published Thu May 17 10:39:29 2018 | Last modified Tue Apr 2 09:28:13 2019
To our knowledge, this is the first agent-based simulation of continuous-time PGGs (where participants can change contributions at any time) which are much harder to realise within both laboratory and simulation environments.
Work related to this simulation has been published in the following journal article:
Vu, Tuong Manh, Wagner, Christian and Siebers, Peer-Olaf (2019) 'ABOOMS: Overcoming the Hurdles of Continuous-Time Public Goods Games with a Simulation-Based Approach' Journal of Artificial Societies and Social Simulation 22 (2) 7 http://jasss.soc.surrey.ac.uk/22/2/7.html. doi: 10.18564/jasss.3995
Abstract:
…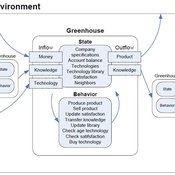 Julia Kasmire
| Published Wed May 9 13:40:57 2012 | Last modified Sat Apr 27 20:18:51 2013
An ABM, derived from a case study and a series of surveys with greenhouse growers in the Westland, Netherlands. Experiments using this model showshow that the greenhouse horticulture industry displays diversity, adaptive complexity and an uneven distribution, which all suggest that the industry is an evolving system.
Max Hartshorn
| Published Sat Mar 24 21:34:18 2012 | Last modified Sat Apr 27 20:18:21 2013
This is an implementation of an agent based model for the evolution of ethnocentrism. While based off a model published by Hammond and Axelrod (2006), the code has been modified to allow for a more fine-grained analysis of evolutionary dynamics.
This website uses cookies and Google Analytics to help us track user engagement and improve our site. If you'd like to know more information about what data we collect and why, please see
our data privacy policy
. If you continue to use this site, you consent to our use of cookies.