Computational Model Library
About the CoMSES Model Library more info
---
CoMSES Net maintains cyberinfrastructure to foster FAIR data principles for access to and (re)use of computational models. Model authors can publish their model code in the Computational Model Library with documentation, metadata, and data dependencies and support these FAIR data principles as well as best practices for software citation. Model authors can also request that their model code be peer reviewed to receive a DOI. All users of models published in the library must cite model authors when they use and benefit from their code.
Please check out our model archive tutorial or contact us if you have any questions or concerns about archiving your model.
CoMSES Net also maintains a curated database of over 7500 publications of agent-based and individual based models with additional metadata on availability of code and bibliometric information on the landscape of ABM/IBM publications that we welcome you to explore.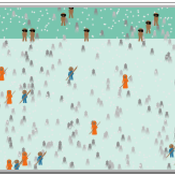 The purpose of the model is to explore how processes associated with compliance across different fishery actors' social groups interplay with their acceptance of a fishery intervention, herein periodic closures of a small-scale octopus fishery. The model agents, entities and processes are designed based on stylized facts from literature and expert workshops on periodic closures in the Western Indian Ocean region, as well as fieldwork from Zanzibari villages that have implemented periodic octopus closures. The model is designed for scientists and decision-makers that are interested in understanding the complex interplay between fishers from different social groups, herein foot fisher men, foot fisher women and male skin divers or free divers within the periodic closure of an octopus species. Including various actions resulting from the restrictions, that is - opportunities that may be presented from restricting fishing in certain areas and during certain times. We are soon publishing an updated model with individual octopuses and their movement behaviors.
Our model is hybrid agent-based and equation based model for human air-borne infectious diseases measles. It follows an SEIR (susceptible, exposed,infected, and recovered) type compartmental model with the agents moving be-tween the four state relating to infectiousness. However, the disease model canswitch back and forth between agent-based and equation based depending onthe number of infected agents. Our society model is specific using the datato create a realistic synthetic population for a county in Ireland. The modelincludes transportation with agents moving between their current location anddesired destination using predetermined destinations or destinations selectedusing a gravity model.
We use a threshold model to drive our simulated network analysis testing public support for candidates in invisible primaries. We assign voter thresholds for candidates and vary number of voters, attachment to candidates and decay. Results of the algorithm show effects of size of lead, attachment and size of decay.
This website uses cookies and Google Analytics to help us track user engagement and improve our site. If you'd like to know more information about what data we collect and why, please see
our data privacy policy
. If you continue to use this site, you consent to our use of cookies.