Computational Model Library
About the CoMSES Model Library more info
---
CoMSES Net maintains cyberinfrastructure to foster FAIR data principles for access to and (re)use of computational models. Model authors can publish their model code in the Computational Model Library with documentation, metadata, and data dependencies and support these FAIR data principles as well as best practices for software citation. Model authors can also request that their model code be peer reviewed to receive a DOI. All users of models published in the library must cite model authors when they use and benefit from their code.
Please check out our model archive tutorial or contact us if you have any questions or concerns about archiving your model.
CoMSES Net also maintains a curated database of over 7500 publications of agent-based and individual based models with additional metadata on availability of code and bibliometric information on the landscape of ABM/IBM publications that we welcome you to explore.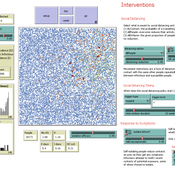 Jennifer Badham
| Published Thu Jun 18 15:05:58 2020 | Last modified Mon Mar 29 13:30:02 2021
NetLogo model that allows scenarios concerning general social distancing, shielding of high-risk individuals, and informing contacts when symptomatic. Documentation includes a user manual with some simple scenarios, and technical information including descriptions of key procedures and parameter values.
Our model is hybrid agent-based and equation based model for human air-borne infectious diseases measles. It follows an SEIR (susceptible, exposed,infected, and recovered) type compartmental model with the agents moving be-tween the four state relating to infectiousness. However, the disease model canswitch back and forth between agent-based and equation based depending onthe number of infected agents. Our society model is specific using the datato create a realistic synthetic population for a county in Ireland. The modelincludes transportation with agents moving between their current location anddesired destination using predetermined destinations or destinations selectedusing a gravity model. A haystack-style model of group selection to capture the essential features of colony foundation for queens of the ant based on observation of the ant Pogonomyrmex californicus.
This website uses cookies and Google Analytics to help us track user engagement and improve our site. If you'd like to know more information about what data we collect and why, please see
our data privacy policy
. If you continue to use this site, you consent to our use of cookies.