Computational Model Library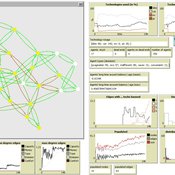 Simulation-Framework to study the governance of complex, network-like sociotechnical systems by means of ABM. Agents' behaviour is based on a sociological model of action. A set of basic governance mechanisms helps to conduct first experiments.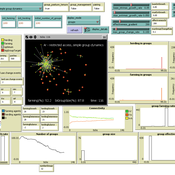 Andreas Angourakis
| Published Fri Feb 5 17:23:29 2016 | Last modified Fri Nov 17 10:20:29 2017
The Nice Musical Chairs (NMC) model represent the competition for space between groups of stakeholders of farming and herding activities in the arid Afro-Eurasia.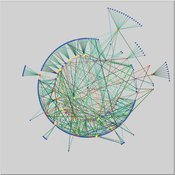 This model simulates networking mechanisms of an empirical social network. It correlates event determinants with place-based geography and social capital production.
We propose here a computational model of school segregation that is aligned with a corresponding Schelling-type model of residential segregation. To adapt the model for application to school segregation, we move beyond previous work by combining two preference arguments in modeling parents' school choice, preferences for the ethnic composition of a school and preferences for minimizing the travelling distance to the school.
This website uses cookies and Google Analytics to help us track user engagement and improve our site. If you'd like to know more information about what data we collect and why, please see
our data privacy policy
. If you continue to use this site, you consent to our use of cookies.