With my research, I aim to improve scientific understanding of the role interactions among cognitive, behavioral, social, and demographic processes play in human adaptation to social-ecological change. Currently, I hold a Postdoctoral Research Fellow position at University of Michigan's School for Environment and Sustainability and an Instructor position at Portland State University's Systems Science Program. I have a Ph.D. in Systems Science (2018) from Portland State University, and an M.A. in Economics (2007) and a B.S. in Management (1999) from Boston University.
Research Interests
Cognitive Social Science, Social-Ecological Systems, Multi-Agent Modeling, Complex Adaptive Systems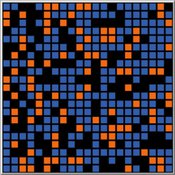 The Multilevel Group Selection I (MGS I) model simulates a population of contributing and non-contributing agents, competing on a social landscape for higher-value spots in an effort to withstand some selection pressure. It may be useful to both scientists and students in hypothesis testing, theory development, or more generally in understanding multilevel group selection.
The model simulates seven agents engaging in collective action and inter-network social learning. The objective of the model is to demonstrate how mental models of agents can co-evolve through a complex relationship among factors influencing decision-making, such as access to knowledge and personal- and group-level constraints.