GARRY SOTNIK is a Lecturer with the Sustainability Science and Practice Program in the School of Earth, Energy and Environmental Sciences. He is a systems scientist with research focused on identifying robust strategies in contexts defined by deep uncertainty and global climate change. Garry develops and implements agent-based computer simulation models that explore co-evolutionary interactions among human cognition and behavior, on the one end, and biophysical conditions, on the other. He has experience designing and teaching courses on agent-based modeling and on different approaches to modeling coupled human and natural systems. Garry holds a Ph.D. in Systems Science from Portland State University and an M.A. in Economics and a B.S. in Management from Boston University.
Research Interests
agent-based modeling, cognition
The model simulates seven agents engaging in collective action and inter-network social learning. The objective of the model is to demonstrate how mental models of agents can co-evolve through a complex relationship among factors influencing decision-making, such as access to knowledge and personal- and group-level constraints.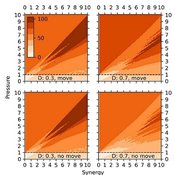 New theoretical agent-based model of population-wide adoption of prosocial common-pool behavior with four parameters (initial percent of adopters, pressure to change behavior, synergy from behavior, and population density); dynamics in behavior, movement, freeriding, and group composition and size; and emergence of multilevel group selection. Theoretical analysis of model's dynamics identified six regions in model's parameter space, in which pressure-synergy combinations lead to different outcomes: extinction, persistence, and full adoption. Simulation results verified the theoretical analysis and demonstrated that increases in density reduce number of pressure-synergy combinations leading to population-wide adoption; initial percent of contributors affects underlying behavior and final outcomes, but not size of regions or transition zones between them; and random movement assists adoption of prosocial common-pool behavior.