I have a background in social science and training in modeling coupled human and natural systems, and apply both to advance our understanding of how interactions among cognitive, behavioral, social, and demographic processes influence human adaptation to climate change.
Research Interests
agent-based modeling, cognition
The model simulates seven agents engaging in collective action and inter-network social learning. The objective of the model is to demonstrate how mental models of agents can co-evolve through a complex relationship among factors influencing decision-making, such as access to knowledge and personal- and group-level constraints.
The aim of this model is to demonstrate some of the SOSIEL Platform's essential processes. The model displays the coevolution of mental models among socially learning agents. Specifically, the model demonstrates two of the SOSIEL Platform's essential processes, namely social learning and collective action. The model was initially built as part of an ongoing study into human adaptation to climate change in a heavily forested valley in the Ukrainian Carpathian Mountains, called Bohdanska Dolyna. Interviews with local community leaders suggested that an important part of adapting to climate change in the area could be transitioning to new and more sustainable employment/income opportunities, such as engaging in green business. Related interviews with local community members further showed that: (a) not all households know how to engage in a green business, (b) most households only occasionally get to interact with other households engaging in a green business, and (c) engaging in a green business often requires the participation of more than one household member. To represent these context-specific characteristics, agent cognition in the model was set to include: (a) social learning, (b) satisficing, (c) signaling interest in a collective action, and (d) action-taking.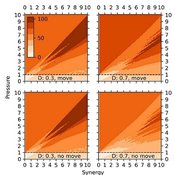 The Multilevel Group Selection I (MGS I) model simulates a population of contributing and non-contributing agents, competing on a social landscape for higher-value spots in an effort to withstand some selection pressure. It may be useful to both scientists and students in hypothesis testing, theory development, or more generally in understanding multilevel group selection.