Computational Model Library
About the CoMSES Model Library more info
---
CoMSES Net maintains cyberinfrastructure to foster FAIR data principles for access to and (re)use of computational models. Model authors can publish their model code in the Computational Model Library with documentation, metadata, and data dependencies and support these FAIR data principles as well as best practices for software citation. Model authors can also request that their model code be peer reviewed to receive a DOI. All users of models published in the library must cite model authors when they use and benefit from their code.
Please check out our model archive tutorial or contact us if you have any questions or concerns about archiving your model.
CoMSES Net also maintains a curated database of over 7500 publications of agent-based and individual based models with additional metadata on availability of code and bibliometric information on the landscape of ABM/IBM publications that we welcome you to explore.
This is a simulation model to explore possible outcomes of the Port of Mars cardgame. Port of Mars is a resource allocation game examining how people navigate conflicts between individual goals and common interests relative to shared resources. The game involves five players, each of whom must decide how much of their time and effort to invest in maintaining public infrastructure and renewing shared resources and how much to expend in pursuit of their individual goals. In the game, "Upkeep" is a number that represents the physical health of the community. This number begins at 100 and goes down by twenty-five points each round, representing resource consumption and wear and tear on infrastructure. If that number reaches zero, the community collapses and everyone dies.
Rosanna Garcia
| Published Mon Mar 28 23:17:34 2011 | Last modified Sat Apr 27 20:18:32 2013
The basic premise of the model is to simulate several 'agents' going through build-buy cycles: Build: Factories follow simple rules of strategy in the allocation of resources between making exploration and exploitation type products. Buy: Each of two types of Consumers, early-adopters and late adopters, follow simple purchase decision rules in deciding to purchase a product from one of two randomly chosen factories. Thus, the two working 'agents' of the model are 'factories' and […]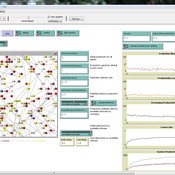 This model looks at implications of author/referee interaction for quality and efficiency of peer review. It allows to investigate the importance of various reciprocity motives to ensure cooperation. Peer review is modelled as a process based on knowledge asymmetries and subject to evaluation bias. The model includes various simulation scenarios to test different interaction conditions and author and referee behaviour and various indexes that measure quality and efficiency of evaluation […]
This website uses cookies and Google Analytics to help us track user engagement and improve our site. If you'd like to know more information about what data we collect and why, please see
our data privacy policy
. If you continue to use this site, you consent to our use of cookies.