Computational Model Library
This is a simulation model to explore possible outcomes of the Port of Mars cardgame. Port of Mars is a resource allocation game examining how people navigate conflicts between individual goals and common interests relative to shared resources. The game involves five players, each of whom must decide how much of their time and effort to invest in maintaining public infrastructure and renewing shared resources and how much to expend in pursuit of their individual goals. In the game, "Upkeep" is a number that represents the physical health of the community. This number begins at 100 and goes down by twenty-five points each round, representing resource consumption and wear and tear on infrastructure. If that number reaches zero, the community collapses and everyone dies.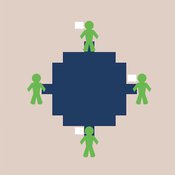 AgentEx aims to advance understanding of group processes for sustainable management of a common pool resource (CPR). By supporting the development and test explanations of cooperation and sustainable exploitation.
This website uses cookies and Google Analytics to help us track user engagement and improve our site. If you'd like to know more information about what data we collect and why, please see
our data privacy policy
. If you continue to use this site, you consent to our use of cookies.