Computational Model Library
PowerGen-ABM is an optimisation model for power plant expansions from 2010 to 2025 with Indonesian electricity systems as the case study. PowerGen-ABM integrates three approaches: techno-economic analysis (TEA), linear programming (LP), and input-output analysis (IOA) and environmental analysis. TEA is based on the revenue requirement (RR) formula by UCDavis (2016), and the environmental analysis accounts for resource consumption (i.e., steel, concrete, aluminium, and energy) and carbon dioxide equivalent (CO2e) emissions during the construction and operational stages of power plants.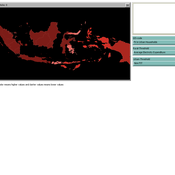 ARISE is a hybrid energy model incorporating macroeconomic data, micro socio-economic data, engineering data and environmental data. This version of ARISE can simulate scenarios of solar energy policy for Indonesia case.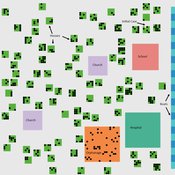 The St Anthony flu model is an epidemiological model designed to test hypotheses related to the spread of the 1918 influenza pandemic among residents of a small fishing community in Newfoundland and Labrador. The 1921 census data from Newfoundland and Labrador are used to ensure a realistic model population; the community of St. Anthony, NL, located on the tip of the Northern Peninsula of the island of Newfoundland is the specific population modeled. Model agents are placed on a map-like grid that consists of houses, two churches, a school, an orphanage, a hospital, and several boats. They engage in daily activities that reflect known ethnographic patterns of behavior in St. Anthony and other similar communities. A pathogen is introduced into the community and then it spreads throughout the population as a consequence of individual agent movements and interactions.
This is a simulator for the unified opinion dynamics framework, as developed by Adam Coates, Anthony Kleerekoper, and Liangxiu Han.
The Regional Security Game is a iterated public goods game with punishement based on based on life sciences work by Boyd et al. (2003 ) and Hintze & Adami (2015 ), with modifications appropriate for an international relations setting. The game models a closed regional system in which states compete over the distribution of common security benefits. Drawing on recent work applying cultural evolutionary paradigms in the social sciences, states learn through imitation of successful strategies rather than making instrumentally rational choices. The model includes the option to fit empirical data to the model, with two case studies included: Europe in 1933 on the verge of war and south-east Asia in 2013.
This website uses cookies and Google Analytics to help us track user engagement and improve our site. If you'd like to know more information about what data we collect and why, please see
our data privacy policy
. If you continue to use this site, you consent to our use of cookies.