No bio entered.
Research Interests
My research examines the most effective and efficient policies for renewable energy development using an approach that integrates input-output analysis, life cycle analysis, econometric, and agent-based modelling to estimate the impacts of the policies to economic, emission, extracted materials, renewable energy capacity and social acceptance.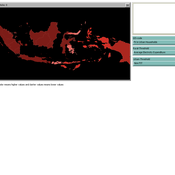 ARISE is a hybrid energy model incorporating macroeconomic data, micro socio-economic data, engineering data and environmental data. This version of ARISE can simulate scenarios of solar energy policy for Indonesia case.
PowerGen-ABM is an optimisation model for power plant expansions from 2010 to 2025 with Indonesian electricity systems as the case study. PowerGen-ABM integrates three approaches: techno-economic analysis (TEA), linear programming (LP), and input-output analysis (IOA) and environmental analysis. TEA is based on the revenue requirement (RR) formula by UCDavis (2016), and the environmental analysis accounts for resource consumption (i.e., steel, concrete, aluminium, and energy) and carbon dioxide equivalent (CO2e) emissions during the construction and operational stages of power plants.