Computational Model Library
About the CoMSES Model Library more info
---
Our mission is to help computational modelers at all levels engage in the establishment and adoption of community standards and good practices for developing and sharing computational models. Model authors can freely publish their model source code in the Computational Model Library alongside narrative documentation, open science metadata, and other emerging open science norms that facilitate software citation, reproducibility, interoperability, and reuse. Model authors can also request peer review of their computational models to receive a DOI.
All users of models published in the library must cite model authors when they use and benefit from their code.
Please check out our model publishing tutorial and contact us if you have any questions or concerns about publishing your model(s) in the Computational Model Library.
We also maintain a curated database of over 7500 publications of agent-based and individual based models with additional detailed metadata on availability of code and bibliometric information on the landscape of ABM/IBM publications that we welcome you to explore.
Displaying 3 of 3 results for 'Bryan Lewis'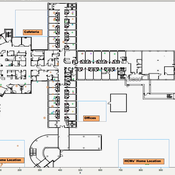 Organizations are complex systems comprised of many dynamic and evolving interaction patterns among individuals and groups. Understanding these interactions and how patterns, such as informal structures and knowledge sharing behavior, emerge are crucial to creating effective and efficient organizations. To explore such organizational dynamics, the agent-based model integrates a cognitive model, dynamic social networks, and a physical environment.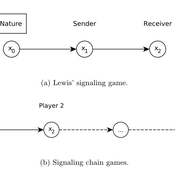 Giorgio Gosti
| Published Wednesday, January 14, 2015 | Last modified Friday, April 03, 2015
Signaling chains are a special case of Lewis' signaling games on networks. In a signaling chain, a sender tries to send a single unit of information to a receiver through a chain of players that do not share a common signaling system.
We develop an agent-based model to explore the effect of perceived intergroup conflict escalation on the number of extremists. The proposed model builds on the 2D bounded confidence model proposed by Huet et al (2008).
This website uses cookies and Google Analytics to help us track user engagement and improve our site. If you'd like to know more information about what data we collect and why, please see
our data privacy policy
. If you continue to use this site, you consent to our use of cookies.