No bio entered.
Research Interests
My research focuses pn the intersection between game theory, social networks, and multi-agent simulations. The objectives of this scientific endeavor are to inform policy makers, generate new technological applications, and bring new insight into human and non-human social behavior. My research focus is on the transformation of cultural conventions, such as signaling and lexical forms, and on many cell models models of stem cell derived clonal colony.
Because the models I analyze are formally defined using game theory and network theory, I am able to approach them with different methods that range from stochastic process analysis to multi-agent simulations.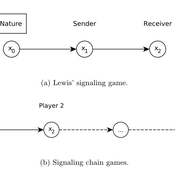 Giorgio Gosti
| Published Wednesday, January 14, 2015 | Last modified Friday, April 03, 2015
Signaling chains are a special case of Lewis' signaling games on networks. In a signaling chain, a sender tries to send a single unit of information to a receiver through a chain of players that do not share a common signaling system.