This release is out-of-date. The latest version is
2.2.0
MOOvPOPsurveillance (version 1.4.0)
MOOvPOPsurveillance incorporates real-world disease distribution and harvest heterogeneities, and can be used to simulate disease surveillance strategies under alternate assumptions. The model can be used to determine population-specific sample sizes for prompt detection of wildlife diseases like chronic wasting disease (CWD). MOOvPOPsurveillance is initialized with model-generated ( MOOvPOP: https://www.comses.net/codebases/5585/releases/2.2.0/ ) pre-harvest deer population snapshot (abundance, sex-age composition and distribution in the landscape) for selected sampling regions in Missouri. CWD+ deer are then distributed in the landscape under one of the two assumptions: random or clustered distribution. User selects the sampling region, age-sex class wise distribution of CWD prevalence, age-sex class wise sample sizes (proportion of harvest tested) and sampling method (random or non-random). Three processes are implemented: 1) individual growth (age of every deer increases by one month), 2) non-hunting mortality (determined by age- and sex- specific monthly mortality rates), and 3) hunting mortality and CWD testing. MOOvPOPsurveillance runs for one time-step (one month), and provides following outputs: total number of adult deer (male and female) remaining in the population after harvest, number of CWD+ deer in the population, in the hunter harvest, and in the sample (deer tested for CWD).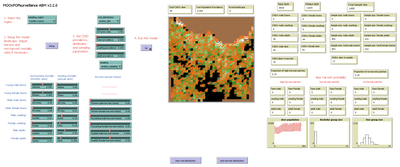 Release Notes
A folder ('/results') is created in the same folder where MOOvPOP_v2 is located. Output file (/deerpopdy'region') is written in this '/results' folder.
Parameters with constant values are now simulated using reporters.