No bio entered.
Research Interests
My research focuses on using generic social science in creating models of social reality, in particular self-organization of social systems.
This agent-based model investigates group longevity in a population in a foundational way, using theory on social relations and culture. It is the first application of the GRASP meta-model for social agents, containing elements of Groups, Rituals, Affiliation, Status, and Power. It can be considered an exercise in artificial sociality: a culture-general, content-free base-line trust model from which to engage in more specific studies. Depending on cultural settings for individualism and power distance, as well as settings for xenophobia and for the increase of trust over group life, the GRASP world model generates a variety of patters. Number of groups ranges from one to many, composition from random to segregated, and pattern genesis from rapid to many hundreds of time steps. This makes GRASP world an instrument that plausibly models some basic elements of social structure in different societies.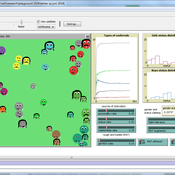 Status-power dynamics on a playground, resulting in a status landscape with a gender status gap. Causal: individual (beauty, kindness, power), binary (rough-and-tumble; has-been-nice) or prior popularity (status). Cultural: acceptability of fighting.