Computational Model Library
About the CoMSES Model Library more info
---
Our mission is to help computational modelers at all levels engage in the establishment and adoption of community standards and good practices for developing and sharing computational models. Model authors can freely publish their model source code in the Computational Model Library alongside narrative documentation, open science metadata, and other emerging norms that facilitate software citation, archival, interoperability, and reuse. Model authors can also request that their model code be peer reviewed to receive a DOI.
All users of models published in the library must cite model authors when they use and benefit from their code.
Please check out our model archive tutorial or contact us if you have any questions or concerns about publishing your model(s) in the Computational Model Library.
We also maintain a curated database of over 7500 publications of agent-based and individual based models with additional detailed metadata on availability of code and bibliometric information on the landscape of ABM/IBM publications that we welcome you to explore.
Displaying 1 of 1 results emergent behavior clear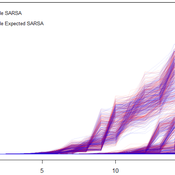 At the heart of a study of Social-Ecological Systems, this model is built by coupling together two independently developed models of social and ecological phenomena. The social component of the model is an abstract model of interactions of a governing agent and several user agents, where the governing agent aims to promote a particular behavior among the user agents. The ecological model is a spatial model of spread of the Mountain Pine Beetle in the forests of British Columbia, Canada. The coupled model allowed us to simulate various hypothetical management scenarios in a context of forest insect infestations. The social and ecological components of this model are developed in two different environments. In order to establish the connection between those components, this model is equipped with a 'FlipFlop' - a structure of storage directories and communication protocols which allows each of the models to process its inputs, send an output message to the other, and/or wait for an input message from the other, when necessary. To see the publications associated with the social and ecological components of this coupled model please see the References section.
This website uses cookies and Google Analytics to help us track user engagement and improve our site. If you'd like to know more information about what data we collect and why, please see
our data privacy policy
. If you continue to use this site, you consent to our use of cookies.