Computational Model Library
About the CoMSES Model Library more info
---
Our mission is to help computational modelers at all levels engage in the establishment and adoption of community standards and good practices for developing and sharing computational models. Model authors can freely publish their model source code in the Computational Model Library alongside narrative documentation, open science metadata, and other emerging open science norms that facilitate software citation, reproducibility, interoperability, and reuse. Model authors can also request peer review of their computational models to receive a DOI.
All users of models published in the library must cite model authors when they use and benefit from their code.
Please check out our model publishing tutorial and contact us if you have any questions or concerns about publishing your model(s) in the Computational Model Library.
We also maintain a curated database of over 7500 publications of agent-based and individual based models with additional detailed metadata on availability of code and bibliometric information on the landscape of ABM/IBM publications that we welcome you to explore.
Displaying 3 of 3 results bioenergy clear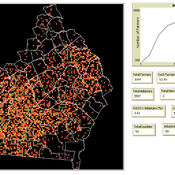 A model that representa farmers potential to adopt bio-fuels in Georgia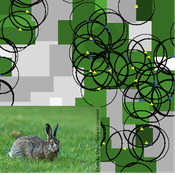 The model is designed to analyse the effects of mitigation measures on the European brown hare (Lepus europaeus), which is directly affected by ongoing land use change and has experienced widespread decline throughout Europe since the 1960s. As an input, we use two 4×4 km large model landscapes, which were generated by a landscape generator based on real field sizes and crop proportions and differed in average field size and crop composition. The crops grown annually are evaluated in terms of forage suitability, breeding suitability and crop richness for the hare. Six mitigation scenarios are implemented, defined by a 10 % increase in: (1) mixed silphie, (2) miscanthus, (3) grass-clover ley, (4) alfalfa, (5) set-aside, and (6) general crop richness. The model shows that that both landscape configuration and composition have a significant effect on hare population development, which responds particularly strongly to compositional changes.
MixFarmABM Model examines the competitiveness of second-generation biofuel crops with existing crops and beef cows at the farm level and their impact on the farm structure.
This website uses cookies and Google Analytics to help us track user engagement and improve our site. If you'd like to know more information about what data we collect and why, please see
our data privacy policy
. If you continue to use this site, you consent to our use of cookies.