Transport simulation in a real road network (version 1.1.0)
Ge, J., & Polhill, G. (2016). Exploring the Combined Impact of Factors Influencing Commuting Patterns and CO2 Emission in Aberdeen Using an Agent-Based Model. Journal of Artificial Societies and Social Simulation, 19(3). http://jasss.soc.surrey.ac.uk/19/3/11.html
We develop an agent-based transport model using a realistic GIS-enabled road network and the car following method. The model can be used to study the impact of social interventions such as flexi-time and workplace sharing, as well as large infrastructure such as the construction of a bypass or highway. The model is developed in Netlogo version 5 and requires road network data in GIS format to run.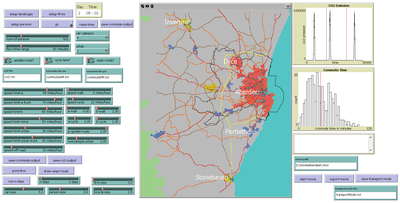 Release Notes
Cite
Ge, J., & Polhill, G. (2016). Exploring the Combined Impact of Factors Influencing Commuting Patterns and CO2 Emission in Aberdeen Using an Agent-Based Model. Journal of Artificial Societies and Social Simulation, 19(3). http://jasss.soc.surrey.ac.uk/19/3/11.html