Sedar is a PhD student at the University of Leeds, department of Geography. He graduated in Computer Science at King's College London 2018. From a very early stage of his degree, he focused on artificial intelligence planning implementations on drones in a search and rescue domain, and this was his first formal attempt to study artificial intelligence. He participated in summer school at Boğaziçi University in Istanbul working on programming techniques to reduce execution time. During his final year, he concentrated on how argumentation theory with natural language processing can be used to optimise political influence. In the midst of completing his degree, he applied to Professor Alison Heppenstall's research proposal focusing on data analytics and society, a joint endeavour with the Alan Turing Institute and the Economic and Social Research Council. From 2018 - 2023 he will be working on his PhD at the Alan Turing Institute and Leeds Institute for Data Analytics.
Research Interests
Sedar will be focusing on data analytics and smart cities, developing a programming library to try simulate how policies can impact a small world of autonomous intelligent agents to try deduce positive or negative impact in the long run. If the impact is positive and this is conveyed collectively taking into consideration the agent's health, happiness and other social characteristics then the policy can be considered. Furthermore, he will work on agent based modelling to solve and provide faster solutions to economic and social elements of society, establishing applied and theoretical answers. Some other interests are:
Multi-agent systems
Intelligent agents
Natural language processing
Artificial intelligence planning
Machine learning
Neural networks
Genetic programming
Geocomputation
Argumentation theory
Smart cities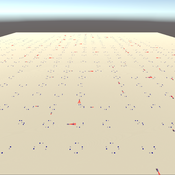 The Urban Traffic Simulator is an agent-based model developed in the Unity platform. The model allows the user to simulate several autonomous vehicles (AVs) and tune granular parameters such as vehicle downforce, adherence to speed limits, top speed in mph and mass. The model allows researchers to tune these parameters, run the simulator for a given period and export data from the model for analysis (an example is provided in Jupyter Notebook).
The data the model is currently able to output are the following:
…