The goal of my research program is to improve our understanding about highly integrated natural and human processes. Within the context of Land-System Science, I seek to understand how natural and human systems interact through feedback mechanisms and affect land management choices among humans and ecosystem (e.g., carbon storage) and biophysical processes (e.g., erosion) in natural systems. One component of this program involves finding novel methods for data collection (e.g., unmanned aerial vehicles) that can be used to calibrate and validate models of natural systems at the resolution of decision makers. Another component of this program involves the design and construction of agent-based models to formalize our understanding of human decisions and their interaction with their environment in computer code. The most exciting, and remaining part, is coupling these two components together so that we may not only quantify the impact of representing their coupling, but more importantly to assess the impacts of changing climate, technology, and policy on human well-being, patterns of land use and land management, and ecological and biophysical aspects of our environment.
To achieve this overarching goal, my students and I conduct fieldwork that involves the use of state-of-the-art unmanned aerial vehicles (UAVs) in combination with ground-based light detection and ranging (LiDAR) equipment, RTK global positioning system (GPS) receivers, weather and soil sensors, and a host of different types of manual measurements. We bring these data together to make methodological advancements and benchmark novel equipment to justify its use in the calibration and validation of models of natural and human processes. By conducting fieldwork at high spatial resolutions (e.g., parcel level) we are able to couple our representation of natural system processes at the scale at which human actors make decisions and improve our understanding about how they react to changes and affect our environment.
Research Interests
land use; land management; agricultural systems; ecosystem function; carbon; remote sensing; field measurements; unmanned aerial vehicle; human decision-making; erosion, hydrological, and agent-based modelling
LUXE is a land-use change model featuring different levels of land market implementation. It integrates utility measures, budget constraints, competitive bidding, and market interactions to model land-use change in exurban environment.
This model is a replication model which is constructed based on the existing model used by the following article:
Brown, D.G. and Robinson, D.T., 2006. Effects of heterogeneity in residential preferences on an agent-based model of urban sprawl. Ecology and society, 11(1).
The original model is called SLUCE's Original Model for Experimentation (SOME). In Brown and Robinson (2006)'s article, the SOME model was used to explore the impacts of heterogeneity in residential location selections on the research of urban sprawl. The original model was constructed using Objective-C language based on SWARM platform. This replication model is built by NetLogo language on NetLogo platform. We successfully replicate that model and demonstrated the reliability and replicability of it.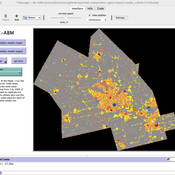 The Retail Competition Agent-based Model (RC-ABM) is designed to simulate the retail competition system in the Region of Waterloo, Ontario, Canada, which which explicitly represents store competition behaviour. Through the RC-ABM, we aim to answer 4 research questions: 1) What is the level of correspondence between market share and revenue acquisition for an agent-based approach compared to a traditional location-allocation-based approach? 2) To what degree can the observed store spatial pattern be reproduced by competition? 3) To what degree are their path dependent patterns of retail success? 4) What is the relationship between retail survival and the endogenous geographic characteristics of stores and consumer expenditures?