Grant Snitker, M.A., is a doctoral candidate in archaeology at Arizona State University and a National Science Foundation Graduate Research Fellow. His research focuses on prehistoric uses of controlled fire, settlement history, and environmental change. Snitker approaches these topics through geoarchaeology, archaeological survey methods, GIS modeling, and landscape/fire ecology. He currently works in Spain investigating the origins and evolution of early farming communities (7,700–4,500 cal. BP) and how they used fire to create productive agricultural landscapes. Snitker also applies his knowledge of archaeology and fire ecology as an archaeological resource advisor on wildland fire incidents here in Arizona. He works alongside firefighters to protect archaeological sites from wildfires and potentially destructive firefighting activities.
Research Interests
Envrionmental Archaeology, Fire Ecology, GIS, Agent-based modeling, Geoarchaeology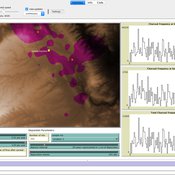 Grant Snitker
| Published Mon Nov 16 14:48:43 2015 | Last modified Thu Sep 30 15:39:55 2021
This model (CharRec) creates simulated charcoal records, based on differing natural and anthropogenic patterns of ignitions, charcoal dispersion, and deposition.