Social scientist based in Milan, Italy. Post-doctoral researcher in Sociology at the Department of Social and Political Sciences of the University of Milan (Italy), member of the Behave Lab. Adjunct professor of Social Network Analysis at the Graduate School in Social and Political Sciences of the University of Milan.
Research Interests
the link between economic exchange, solidarity, and inter-group conflict
peer-review evaluation in scientific publishing
integrating Agent-Based Modelling (ABM) with Social Network Analysis (SNA)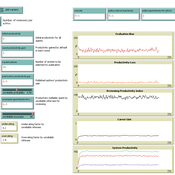 This ABM looks at the effect of multiple reviewers and their behavior on the quality and efficiency of peer review. It models a community of scientists who alternatively act as "author" or "reviewer" at each turn.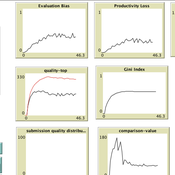 NetLogo software for the Peer Review Game model. It represents a population of scientists endowed with a proportion of a fixed pool of resources. At each step scientists decide how to allocate their resources between submitting manuscripts and reviewing others' submissions. Quality of submissions and reviews depend on the amount of allocated resources and biased perception of submissions' quality. Scientists can behave according to different allocation strategies by simply reacting to the outcome of their previous submission process or comparing their outcome with published papers' quality. Overall bias of selected submissions and quality of published papers are computed at each step.
This is an agent-based model of a population of scientists alternatively authoring or reviewing manuscripts submitted to a scholarly journal for peer review. Peer-review evaluation can be either 'confidential', i.e. the identity of authors and reviewers is not disclosed, or 'open', i.e. authors' identity is disclosed to reviewers. The quality of the submitted manuscripts vary according to their authors' resources, which vary according to the number of publications. Reviewers can assess the assigned manuscript's quality either reliably of unreliably according to varying behavioural assumptions, i.e. direct/indirect reciprocation of past outcome as authors, or deference towards higher-status authors.